Valley ('12) Publishes Children's Book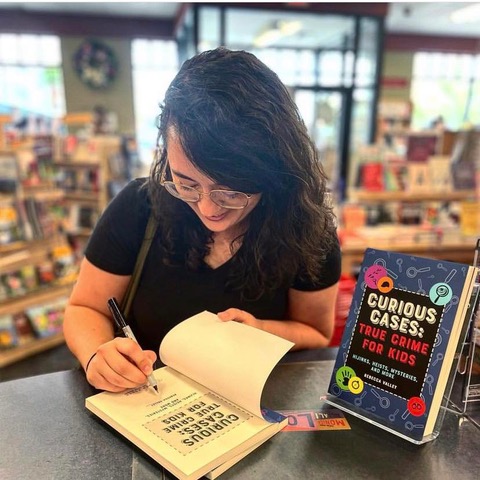 Rebecca Valley ('12) is a Bellows Free Academy alumni, now working as a freelancer and writer for a tech company.
While at BFA, Valley said she learned many skills she now puts to work in her career. She specifically praised the English teachers at BFA, saying they are "really good at helping you be creative in your writing."
Valley said that reading a surplus of books in high school inspired her to write, and the constant practice helped her to become a better writer: "I think the thing about being a good writer is that you just have to do it a lot."
According to Valley, once she graduated from BFA, she went to Bennington College in southern Vt. for a year before transferring to Evergreen State College to study English. After college, she started her career as a librarian. Eventually, Valley moved back to the East Coast and got a degree in writing at graduate school. Since then, she has been working for a tech company as a writer, where she writes training and development courses.
Recently, Valley published a true crime book marketed toward middle school children called Curious Cases: True Crime for Kids. Valley said she had always loved true crime stories but never thought she could write one because "[She is] a writer, but…not really like an investigative journalist."
Valley's book, which is a collection of child-friendly true crime stories, was "more [of] the kind of research I was used to," Valley said.
Valley's inspiration and goal when publishing this book was to widen the age demographic of true crime and mystery stories. She said that when working as a middle school librarian, many kids would look for books about crime scene investigations, but because there were no age-appropriate renditions, they wouldn't be able to explore those interests. "So I started compiling stories that were age appropriate… and still scratched that forensic science, quirky mystery itch," Valley said.
When asked about her day-to-day life, Valley said that because she works remotely, she doesn't leave her house often. After she finishes her work for the day, Valley spends time writing for her own personal interests and spends time with her partner.
Outside of work, Valley said she likes baking cakes and bread and likes to hike.  When she is not spending time with friends and family, Valley enjoys going out to different coffee shops and trying them out.
Valley's advice for current BFA students is, "Even if you think you'll never do something, just try it…When I was writing this book, I [thought] this thing is never gonna get done… And one day, it was just done. If you just chip away at projects like that, you really can do more than you think you can do."