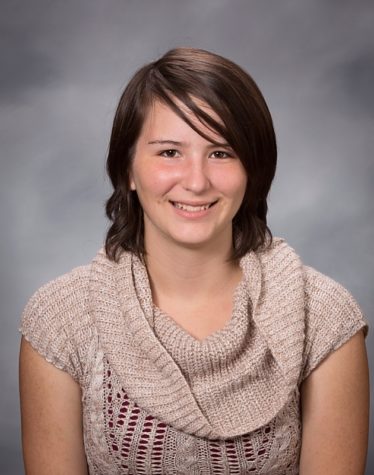 Ambyr Wagner ('18), is a senior at Bellows Free Academy and is the current Editor-in-Chief for the Mercury. She lives in Highgate, Vermont.
Ambyr previously attended City School in Saint Albans, Vermont. Her experience with the school was less than glamorous. When asked where she previously studied her response was "I went to Saint Albans City School, unfortunately."
Her view of BFA is quite conflicted, she said, "BFA itself is okay, I mean my freshman year it was great and then it tailored off a little bit as I went on. And senior year sucks, because of all the work." She views how the school handles things such as bullying and fighting as flawed, stating "There is too much [fighting] but that is because many of the boys think they are so big and macho."
When asked how she would suggest to fix the bullying problem Ambyr said that "helping a student everytime they go to you is definitely the first step, instead of turning them away... And there's cameras everywhere and some of them at least have to record some of what is going on so they can look at video evidence."
Currently Ambyr has a part-time job at Beverage Mart, where she makes subs.
She stated that "I have a lot of hobbies: softball, horseback riding, reading, writing, drawing. I mean, the list goes on for a little while."
Ambyr cares for her siblings, but doesn't baby them. While the topic of bullying was in the air.
"In all honesty I can see why people bully them, but at the same time it's not right. The whole tail situation is dumb. I explained to  my sister that she is setting herself up for it because it's different and you don't see that, especially in a high school," Ambyr said.
She mentioned how she was previously in the dance team and how "it was all last minute." Further elaboration led to her saying, "At one point there was a competition scheduled that we had to go to the night after so -most of the competitions are scheduled Saturday- she told us Friday about it, and that was not okay because of the little baby in the family at the time."
Ambyr Wagner, Editor-In-Chief
Apr 19, 2018

Vermont marches for change

(Story)

Mar 23, 2018

Working with students about "work life"

(Story)

Feb 22, 2018
Dec 15, 2017

It's a sub . . . maybe

(Story)

Nov 14, 2017
Nov 05, 2017

All for one or one for all

(Story)

Sep 18, 2017

Annual Flu Vaccination Clinic

(Story)

Jun 09, 2017

An unsung BFA hero

(Story)

Jun 08, 2017

New school resource officer named

(Story)

Mar 16, 2017

Upward Bound provides opportunity at BFA

(Story)

Feb 17, 2017

New "Kicks" for School Faculty…

(Story)

Feb 09, 2017
Dec 20, 2016

Leaders are made, not born

(Story)

Nov 14, 2016
Oct 11, 2016

International Travel

(Story)