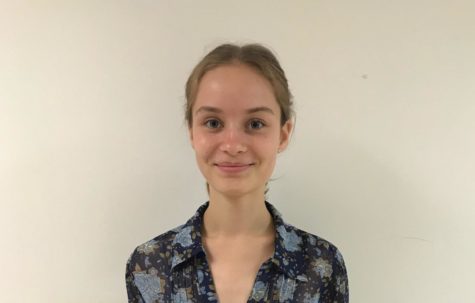 Katharina Spöth is a creative student interested in all things artistic from Cologne, Germany. I interviewed Katharina on September 6th to gain further insight into her life in and out of school and her transition from German to American schooling.
Spöth says that her favorite class is currently String Orchestra as Spöth has been playing violin for a number of years.
"I have been playing violin for nine years and it's something that I love and am so happy to do."
Even though Spöth has enjoyed the classes she is able to take, she does admit to the confusion created by her current schedule. "When I think about BFA, the first thing that comes to mind is the most confusing schedule I've ever had in my life, but the second thing that comes with the schedule is the variety of the classes you can choose… I'm really happy about these opportunities."
Spöth thinks that "food says a lot about a person," and that ratatouille is her favorite dish, though "it has to be good." in order to enjoy it.
Spöth says her favorite activity outside of school is "Playing the violin and, of course, being creative… I love everything where I can be creative. That includes everything in the kitchen: baking, cooking, practice. I love to draw, I love to build, I love to do things myself and create things, and design things, and everything about being creative."
Spöth hopes to become a neurosurgeon in the future, her dreams concerning the medical field have been ingrained in her past, saying that "Since I was about three years old or so I knew that I would be a doctor and study medicine."
When asked what the biggest difference experienced in her transition from Germany to America was Spöth said "I think it's the attitude of the people here, everybody is just so open to somebody new, and so nice, and everybody is so helpful. Life at school is so different here, in Cologne where I come from it's like you go into school, have your classes and go home. Here you can do just a lot being at school. There are a lot of opportunities to spend your free time here without doing classes by doing fun activities.", though she has been looking forward to understanding the different social and political climates in America upon arriving, saying that she would like "Meeting the people and understanding what is going on in this country at the moment, as there are a lot of political and historical things happening."
Even with the new atmosphere and potential experiences Spöth does miss Germany and says that "I've noticed one thing that makes me a bit sad, the consumption  of plastic here. You walk in the supermarket and get 12 items. You will get, I think, six plastic bags and if this would happen in Germany everybody would be like 'no, no, no, no, no!' and here everything is wrapped in plastic three or four times and then put in another plastic bag that you throw away at home and I think that that is what I miss a bit about Germany."
Katharina Spöth, Writer
Jun 10, 2019

Optimism for journalism: what you didn't know

(Story)

May 20, 2019

Who is Mr. Perkins?

(Story)

May 02, 2019

Medication regulation for addiction prevention

(Story)

Apr 03, 2019

Snow days, delays… it's a craze!

(Story)

Apr 02, 2019

MRUSD policy conflicts with New Voices Law

(Media)

Mar 15, 2019

Mental Health at BFA

(Story)

Feb 22, 2019

Low participation causes Ski and Snowboard Club's cancellation

(Story)

Feb 12, 2019

Stars, Stripes and Stereotypes

(Story)

Jan 14, 2019

Integration for the BFA commUNITY

(Story)

Dec 14, 2018

Exchange opportunities

(Story)

Nov 20, 2018

Only fools juul in school

(Story)

Nov 02, 2018

You have the choice to raise your voice

(Story)

Oct 12, 2018

"An apple a day…"

(Story)

Sep 25, 2018

It's a new dean, it's a new day

(Story)