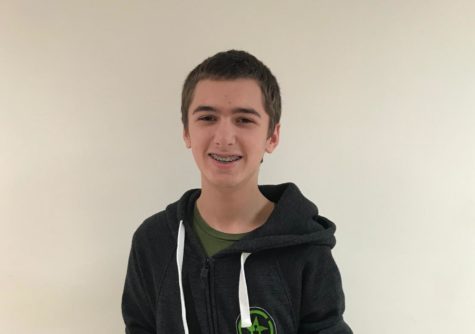 Owen Biniecki is an ambitious sophomore who really enjoys learning new things.
His favorite subject is "definitely science!"
Especially the area of genetic engineering is one of his biggest passions.
"I guess my real interest sparked when I was about twelve years old. That's when I first started to hear about how big of a deal genetic modification was," Owen says.
He already has relatively accurate ideas of what he wants to achieve in his job.
"I would like to change the methods of GMO. I definitely like to make it a more moral process."
Biniecki's goals for for his high school life are as big as these for his professional career.
During his further time at BFA he wants to "set up myself for getting my master in either molecular biology or genetics because all of my time that goes definitely spikes toward science. I would also like to take more advanced science next year."
But he also wants to change something that he's not contented about.
"In my past academic lifetime I waited forever do things. I'm not awful at getting them done but at procrastinating."
Biniecki says the most inspirational person is his life is his mother.
"In my life I look up to my mother. She got her masters and always works really hard."
His free time he loves to spend on reading and writing a lot.
"I guess reading and writing gives you a kind of own stuff. I like the quiet and writing doesn't involve crazy crowded awful masses of people."
If he would say something to the world it would be: "Don't be stupid. So many mistakes are just stupid, things that could be totally preventable but that we've caused because we have no view for the future or not taking important details into certain considerations."
Although Biniecki enjoys highschool life he can't wait to graduate and to "start studying as soon as possible."
Owen Biniecki, Writer
Dec 05, 2019

Making and Remembering Legacies at BFA

(Story)

Oct 31, 2019

What we know about BFA's water

(Story)

Jun 04, 2019

What's in your water?

(Story)

May 02, 2019

How the modern Internet is crippling global innovation

(Story)

Apr 05, 2019

Prom shoots for the stars

(Story)

Mar 15, 2019

Sparrow flies high in Poetry Out Loud

(Story)

Feb 22, 2019

From Mercury to Pluto?

(Story)

Feb 11, 2019

The safety of BFA

(Story)

Jan 14, 2019

Poetry Out Loud: 2019 edition

(Story)

Dec 14, 2018

Can news give you the blues?

(Story)

Nov 20, 2018

The growing leadership of BFA

(Story)

Oct 12, 2018

Faith in our filters

(Story)

Sep 25, 2018

Call-an a new secretary to BFA

(Story)