2017-2018 Staff
Writer
Grace Bates ('18) is eager to graduate and continue her education. Bates lives at home with her mother, Stacy, and father, Rene, and has an older sister who is a sophomore at the University of Vermont (UVM), studying Film a...
See Grace Bates's profile
Writer
Owen Pelkey is a senior at Bellows Free Academy, in Saint Albans, Vermont. He lives with his mother and father, and has an older brother who's a junior in college. Owen deeply cares for his family and states that one of his best...
See Owen Pelkey's profile
Writer
BFA has a lot of different things to offer, including a diverse group of individuals. One of these individuals is named Eros Bouley-Swedo. Bouley-Swedo is 17 year old senior at BFA from Saint Albans Town Educational Center (SATEC)...
See Eros Bouley-Swedo's profile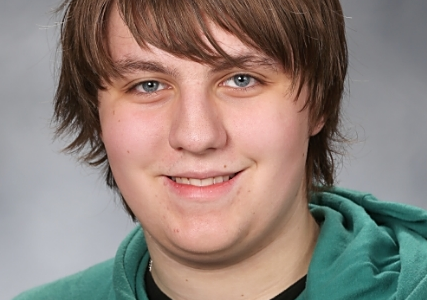 Writer
Drew Pettengill, a Georgia, Vermont native and a senior at BFA, has taken to the class as an experimentation for experience and a potential hobby. He lived in Georgia, Vermont for all of his life. "I've lived on the property that I curre...
See Drew Pettengill's profile
Editor In Training
Haley Seymour is the first in her family to attend BFA and is originally from Burlington. Her mother is her greatest influence to give everything her best shot because of the support she gives Haley. When she gets out of...
See Haley Seymour's profile
Editor In Training
Julia Scott ('19) is from St. Albans Town, Vermont. She lives with her parents Jennifer and Daniel and younger brother Owen. Her brother will be attending BFA in 5 academic years. Scott was exposed to the idea of Journalism...
See Julia Scott's profile
Asst. Editor
After being in Journalism all of last year, Wolfe has stepped up to aid Editor-In-Chief Ambyr Wagner in running the Mercury show, as Assistant Editor. Wolfe has produced over 100 editions of his creation, "The Mixdown," a radio ...
See Alek Wolfe's profile
Editor-In-Chief
Ambyr Wagner ('18), is a senior at Bellows Free Academy and is the current Editor-in-Chief for the Mercury. She lives in Highgate, Vermont. Ambyr previously attended City School in Saint Albans, Vermont. Her experience with the...
See Ambyr Wagner's profile