Conspicuous Cuts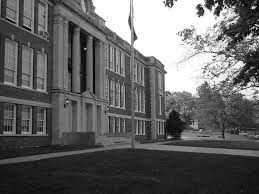 As a joint result of Act 46 and the BFA budget, which was approved on Town Meeting day with astonishing numbers, numerous BFA programs, and staff members were cut.
In order for BFA to meet the demands of Act 46 and to lower its overall budget below the per-pupil spending threshold by a penny in its proposed fiscal year budget, more than a half a million dollars were forced to be cut from spending on staff.
In fact, the BFA School Board voted to cut $546,000 from the proposed budget. This includes the reduction of 8.4 full time employees.
In order to define the process used by the School Board to determine what to cut, the Mercury made numerous contacts among the key decision makers for the BFA budget; the BFA Board, FCSU Superintendent Dr. Kevin Dirth, BFA School Board Chair Mrs. Nilda Gonnella-French and BFA Principal Mr. Chris Mosca.
FCSU Superintendent Kevin Dirth was first contacted, and he declined to comment. Dirth instead referred the Mercury reporter to other sources, writing; "I think these questions are more for Mr. Mosca and/or the Board Chair, Nilda Gonnella-French. I am not able to speak for the Board."
Following Dirth's suggestion, the Mercury reporter contacted Gonnella-French, the BFA School Board Chair.
Like Dirth, Gonnella-French declined to answer the Mercury reporter's questions on the process of staff cutting. She wrote; "Thank you for your inquiry. Please refer your questions to Principal Mosca."
The Mercury then contacted Principal Mosca, and received a response, but Mosca too was hesitant to answer. "I can't speak for the School Board, but I can speak for my role in this."
Mosca then went on to speak to his personal role in the matter as Principal, and began by stating; "It was my job to make recommendations, I don't even like to call them recommendations, it was my job to make proposals around the reductions."
Mosca elaborated further, suggesting that the main reason for the reductions was to ultimately save the local taxpayers money.
"The reason primarily is because Act 46 caused us to have to stay within a 1.04% increase per equalized pupil. If you go over the cap, then it creates additional taxation on the local community. So the decision was made to stay within the cap, and I understand that, but that comes right out of the legislative decision relative to us being considered a quote on quote 'high spending district.' So we had to stay within the 1.04," Mosca said.
Mosca then went on to suggest that the goal was not to cut too much of a specific department.
"You don't want to pick on any one area, and it needs to be noted, that we have already reduced about six positions over the last two years. Now some of that has been done through attrition, so we lose people through retirements, and we just don't replace them, and that way, you can save on that salary without cutting someone. That was a good strategy, because we were keeping our spending limits down without losing people, and impacting programs."
With the BFA student enrollment rate on a steady decline, according to Mosca, changes to the faculty were a long time coming.
"The staffing that I inherited was for a school of about 1,200 students. Now we are down to about the 950's," Mosca said.
Although it may anger many, according to Mosca, BFA will only benefit from the reductions.
"You can't in good conscience fund for a school of 1,200 students when you are around 950. So that was another big factor as to why we had to make these decisions," Mosca said.
But how exactly did the decision process take place to decide who would be cut?
The decision as to who would be cut for the upcoming school year was based on a seniority list, Mosca indicated.
"The reductions get focused on generally people who are least senior members within departments. So it is based on a seniority system, if you reduce in a particular department. You have to identify the person with the least amount of seniority, and that is generally how these things work," Mosca said.
This process to decide staff reductions has many BFA students enraged.
In a March letter that a group of unnamed BFA students submitted to the St. Albans Messenger, students voiced their support for one of the faculty members who was on the wrong end of the reduction list, BFA chemistry teacher Kristen Corrigan.
"We, the students, understand that sometimes difficult decisions have to be made when creating budgets. We understand that there needs to be a process, but having a system that is based on seniority is archaic and should not be the deciding factor of a teacher's job in this day and age," the students wrote.
Even if the seniority system is "archaic," according to Mosca, it was the only way to fairly make these reductions.
"It is a confluence of factors, but when you end up in personnel reductions, I can't make that up, I can't just randomly pick people to be reduced, that is not how the system works. I don't have that kind of discretion. We get a seniority list, and we have to abide by that list."
However, through their letter, BFA students made an interesting point on how they believed a proper reduction system should work.
"The number of years a teacher has in a school should not be a major factor in cutting teacher positions… The quality of a teacher should determine who stays and who goes… In a time where Personalized Learning is impacting more students' success, maybe the process for teacher retention should be personalized as well. It is a problem when seniority trumps the quality of teaching," the letter read.
Even if the system should be based on quality of teaching, it would be nearly impossible to have a fair way to judge that, and as Mosca stated, that is why reductions are made by"seniority list," and the decision makers "have to abide by that list."
"You are not going to get $500,000, that's a big number, by reducing supplies, or cutting back on computers even. It is personnel, because we are a labor intensive business," Mosca said.
Due to Act 46, BFA teachers and programs funding has been reduced by $546,000.
Local taxpayers might expect that such a reduction is necessary and reasonable for BFA and the FCSU.
With that being said, it makes sense for BFA to 'bite the bullet' and reduce expenses at the wish of the taxpayers, especially if it is mandated by state law.
However, the reductions do not seem to be across all areas of BFA and the FCSU.
Seen through public documents, Principal Mosca was paid $108,737.00 last year. Mosca will receive a 3.5% pay increase in the 2016-17 (FY 17) budget year, with Mosca's salary jumping to $112,543.00.
It is also noticed that Superintendent Dirth earned $120,000 in FY16. The approved budget will give Dirth a 9.1% pay increase in the 2016-17 year.
With that being said on June 30 of 2019, Dirth will have received received nearly a $30,000 pay increase from 2014 to 2019.
The budget also calls for building administrators (this includes the three assistant principals) to see a 3.5% pay increase as well.
There is no current Professional Staff Master Agreement for 2016-17, so it is not now known whether teachers will have a pay raise or not.
Armand Messier is the President of BFAEA, the local branch of the NEA. In order for BFA to remain under the 1.04% cap; "Cuts to personnel were made almost entirely to the BFA teaching and NTWC staff. One vacant position in support staff was eliminated. No cuts to support staff or special education were made. Cuts are solely determined by the BFA administration with assistance from the Supervisory Union's office including the Superintendent, human resources, and the business office."
The 8.4 faculty/staff members who will not be employed at BFA next year will surely face severe challenges as a result of the changes brought forth by Act 46.
However, it still remains uncertain as to whether or not the Act will have an affect on the educational experience provided by BFA educators.
"People can question what reductions were made, but we have to do it by rule, and by enrollment, and by being mindful of multiple factors," Mosca said.