Duel with dual enrollment
Dual enrollment is a great opportunity for learning that many students do not even know about.
Also "early college" is another example; how great would it be doing your senior year on a Vermont campus of your choice?
Vermont provides 19 colleges that accept dual enrollment students. When you become a junior or senior in high school you can access the option of dual enrollment.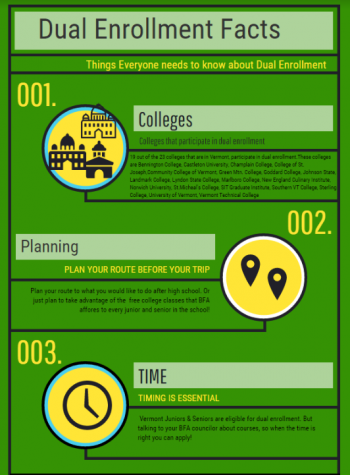 Some Vermont colleges accept early college seniors. But you have to be a senior to participate. The application process must take place in your junior year of high school.
Earning college credit for free, or taking a year of college classes for free. By getting the experience of college, you already have made a step in the door to success.
These are great opportunities, early college or dual enrollment but what is the difference between these two?
That is what many people are wondering.
Toni Marra is the Dual Enrollment & Early College Programs Coordinator at the Vermont Agency of Education.
"Dual Enrollment is basically when a high school student enrolls in a course offered by a college that is a participant in dual enrollment," Marra said.
"The courses that are offered at those schools for dual enrollment, the state actually pays the tuition for any junior or senior in high school."
Yes, the state pays for the tuition for two free college classes. Vermont students are eligible for this opportunity during their junior and senior year of high school.
Most students take these classes for college credits, because some of them do know what they want to do after high school.
"Yes, especially if you are unsure or students are unsure if they want to go to college. It is a great place to just kind of say 'I want to feel this out first without just jumping into it,'" Marra said.
It doesn't hurt to try a college class; the student can get the feel of what it is like being in a college environment.
Experiencing a college class might change the outlook, that students have on college.
"The style is completely different from traditional classes at BFA," Ethan Baker ('17) said,
Baker is a student at BFA who is currently participating in dual enrollment. College classes do not have to follow the same rules that high school classes have to follow for the most part.
"It allows me to use the credits for high school and college making me use my time more usefully," Baker said. High schools allow the student to do this, making it more helpful for the students pushing them towards their success.
"Here at CCV, we have an online application, that's at our website CCV.edu, it takes about 8 to 10 mins to complete," Gretchen DeHart said.
DeHart is Coordinator of Academic Services at the Community College of Vermont, in their Saint Albans location. CCV has 12 locations across the state of Vermont.
At CCV, by taking advantage of the two free vouchers, you can earn up to six credits.
"Early college is a program for senior students who are going into their senior year, and it's a way students do the academics senior year as a first time college student."
Early college is a completely different level than high school. Early college allows you to spend your last year as a senior, at CCV.
There are also other schools that you can apply for, but it is just like applying to a college in ways.
"Each college has a different enrollment process," Preston Randall, the Director of Guidance at BFA said.
There are many steps to dual enrollment; many wonder how do you get ready for such a big step in your life. Some colleges might have you take a different test, or more one than one test to get enrolled into their college.
"Early college is a student who is no longer taking high school classes, dual enrollment you are taking high school classes and college classes," Randall said.
You are not just testing the water with early college you are diving right into your start to success.
Dual enrollment is just dabbling your foot into the water, testing out how it feels. Then seeing if you like the style or you do not.
"We have a VSAC counselor, that will be working with us regularly, who will be the additional support in addition to the school counselor that helps pave the way to dual enrollment," R a n d a l l said. Now dual enrollment is something that most s t u d e n t s need a little push, and same guidance to get s t a r t e d .
That starts with talking with a teacher or a guidance counselor about the topic.