A family affair: Comet hockey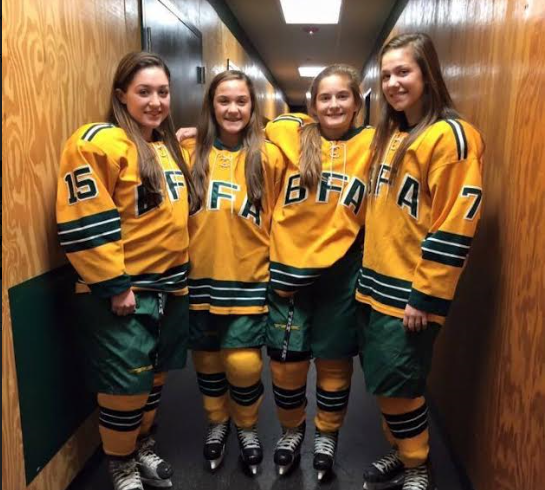 Anyone who has been a member of a team, is familiar with the family-like atmosphere that comes along with it.
But for the BFA Comets hockey team, it is more than just a feeling; it's a reality.
In recent years, the Comet hockey teams have included numerous members of the Dukas family.  (And that goes for Bobwhite hockey as well, but that's another story.)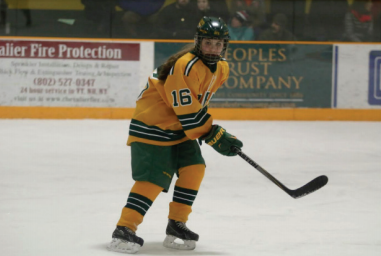 Sisters Shea Dukas ('17) and Peyton Dukas ('19) along with cousins Kamren Dukas ('17) and Elizabeth Dukas ('19), have been on the rink with each other for years, and the same story has been true throughout their Comet careers.
All four Dukas girls were introduced to hockey at a young age by their fathers, Gary and Jerry Dukas, The fathers are twins, and much like their daughters today, they grew up playing hockey together.
"Our fathers would make us at home rinks and teach us what to do and we would do it all together which was always a family type sport," Kamren said.
Peyton, who will be starting her second year as a Comet, mentioned her dad Jerry as one of her biggest influences for her passion for hockey.
"He works [very] hard and he [seems to] always [have] time for family and is always so supportive of us all," Peyton said.
Shea, meanwhile, mentions her grandmother as one of her biggest influences.
"She's been through a lot and she's always there to support me no matter what happens," Shea said.
Kamren, who is prepping for her third year as a Comet, mentions her mother as her great influence.
"She's amazing to me, she does it all; she's like a best friend and mom all in one," Kamren said.
In their younger years, each of the four girls envisioned the time when they would become Comets.  Finally, it is a reality.  All four will skate this year on the Comet varsity.
"Our cousin would bring us into the locker room and we would just see how the big girls did everything and now that we're in it, there's nothing like it," Shea said.
Just like a regular family, the Comet hockey team is always looking out for each other, and constantly cheering for each other both on and off the ice.
If there are any off-ice problems or issues the girls pride themselves on being able to leave these issues where they belong, off the ice.
"Shea and I have always been close.  We don't often fight, but [obviously] sometimes we do and I think when it comes to it, family is family," Kamren said.
Shea has a similar outlook on the matter.
"When I fight with my sister at hockey it's because I know she should be doing something different or that she has more to give and she doesn't know that because she is nervous.  It [often] frustrates me because I [know] she had more to give," Shea said.
Another great part about being on a team is forging moments that you as an individual will never forget.
One of those moments for the Dukas Comets and the Comet team is the 2015-2016 State Championship against the Essex Hornets.
Prior to reaching the championship showdown, the Comet team defeated the Middlebury Tigers with a 5-2 win.
The Comets were defeated by Essex in the March Division 1 championship game, 2 — 0.
"
when we all really came together and it was just really amazing
— Kamren Dukas
While many teams might get a bitter taste to some so close to a championship and not quite make it, for this family group within the Comets, it was a positive experience nonetheless
"It was really fun and it was when we all really came together and it was just really amazing," Kamren said.
The Dukas quartet and the rest of the Comet family will be back on the ice and ready to go, with their eyes set on capturing the 2016-17 state crown.