Snow days; a blessing or a curse?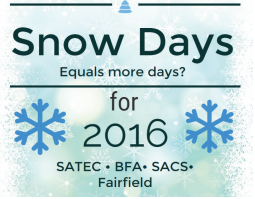 Every student, from their first days of school till graduation, loves having a snow day. The white cold snow covering all that is in sight.
But what happens after that? Do you have an extra day of school on top of that now?
Is it just an extra, added day of school during the blistering hot summer?
That is the most likely result if you do not have any extra days included in the school calendar.
The state of Vermont requires every school to have at least 175 school days in a school year. Some schools, like BFA, have exactly that number of days included on their published school calendar.
Within the Franklin Central Supervisory Union (FCSU), Saint Albans City School (SACS), Saint Albans Town Educational Center (SATEC), and Fairfield Center School (FFCS) all have 177 days, according to their published calendars.
The calendars built by the School Boards and administrators have a large impact on everything that goes on in a school. Teachers and students are all impacted.  Most have their opinion to share about the school calendar.
"Don't build onto the schedule before anything happens," Brittany Davis (17) said.
Many students at BFA agree with this statement, that is keeping to the exact amount of days that the state requires in the calendar.
This means that if BFA has a snow day or a day off due to an issue at the school or bad conditions, add another day onto the school calendar to keep the requirement of 175 days of school.
"Let's say we had no snow days, we would have those extra days. We would have to stay in school longer and it would cut down our summer vacation," Davis said.
This is true, but all of the schools in the Franklin Central Superiority Union start on the same day. On August 31, all of the schools in the FCSU start up.
BFA would have a shorter summer vacation but only by a few days. This could give teachers an opportunity to take advantage of those days.
But, could there be a way to somehow add additional days without adding days at the end?
"You could either build on additional days and then use them and hope that you don't run out. Or you can just let the snow days happen and add them on at the end of the year, which is what we do," FCSU Superintendent Dr. Kevin Dirth said.
Some supervisory unions in Vermont, such as Franklin Northwest SU, schedule 179 days of school, and on top of that have 5 additional snow days.
"I'm not sure really which one is better, I have worked in systems that do both, and they both seemed to be okay," Dr. Dirth said.
Many BFA seniors, or 8th graders in the other FCSU schools who are going to graduate, are worried about the fact that if the winter is bad and we have a few snow days that have to be made up, that could affect the date of their scheduled graduation.
"Theoretically, if you had 5 or 6 snow days, it might push graduation up to the next week," Dr. Dirth said.
If the winter is a really bad one, that could push BFA graduation from June 17 to June 24, or possibly cause the other schools to reschedule this important culminating activity.
The Old Farmer's Almanac says: "The winter of 2016-17 will feature above-normal snowfall in the northernmost states . . ."
Regardless of your own personal feelings about whether snow days are so much fun that they are worth fun a hot day in a classroom in the summer, or not, it's probably up to mother nature to decide.