A new face: serving human services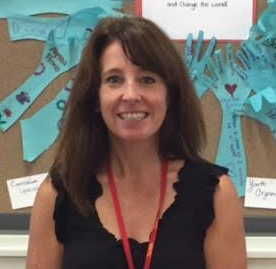 Mrs. Jennifer Konrad joins the staff this year as the human services instructor within the Northwest Technical Center (NWTC).
Human services is a course educating students in the career fields of teaching and social services, a personal love of Konrad. The course teaches students leadership and interpersonal skills, and, Konrad hopes, will help students to find their passion.
"It's more about them finding their path, and giving them an opportunity to kind of explore the field of human services," Konrad Said.
Konrad grew up in the lake town of Geneva, NY, the oldest of six. She attended college nearby, earning a master's degree in educational leadership. She and her husband, Michael Konrad who currently works as a physical education teacher at SATEC, moved to Vermont 18 years ago.
Growing up, Konrad looked up to her parents and considers them her biggest role models. She admired her mother's determination and commitment to pursuing both her career in nursing and raising a large family. She looked up to her father for the friendships and connection he built in his work in the insurance business.
"It reminded me a lot of home… We love Vermont. It's everything we would want in a place to live," Konrad said. She enjoys the combination of community and varied opportunities with the closeness of smaller towns.
As a teen, Konrad was inspired to work in education through volunteer work.
"My high school year I was offered a placement and went and volunteered in a first grade classroom and so it's kind of become full circle because that's what the human services program offers kids: an opportunity to go and work in classrooms and community schools," Konrad said.
Prior to her work at NWTC, Konrad had 22 years in the field of education. She began as a literacy instructor in Richford, VT, later working as a principal in Isle La Motte, VT. Most recently, she worked as a third grade teacher at St. Albans City School for 12 years.
Though new to NWTC and BFA as a teacher, Konrad is not new to either education center. Her son James Konrad ('17) is a BFA alumni, while her son Matt Konrad ('20) currently attends BFA.
Konrad and her family have a cat, Jake, and two dogs, Lucy and Rondo. She said that Rondo, a mini-pinscher and american greyhound mix "is the weirdest looking dog ever, but he's growing on me."
Konrad stressed the importance of having hobbies to "keep you inspired and growing". She spends a lot of time gardening and even shared that were she not a teacher, she would like to be a florist.
Konrad enjoys running and has run marathon. She has done many obstacle running races, like the Spartan Race.
Konrad loves BFA and NWTC and appreciates the diverse curricular and extracurricular opportunities. She feels the Technical Center is very important in its role of offering students hands on work experience.
Konrad strives to teach like her fourth grade teacher.
"She was different from my other teachers. She was very hands on, and we did a lot of projects and a lot of opportunities to use our imagination and I just admired her so much and wanted to be like that. I've tried to keep that as a teacher, to keep things engaging and exciting." Konrad said.
Konrad is extremely satisfied with her job and the power she has to help students interested in the social services find their path. She stressed the value of the human services course in helping students and the community.
"I'm excited about what I do everyday and I want [my students] to kind of feel that same feeling," Konrad said.