Hungry for the truth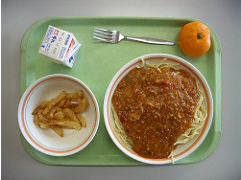 Lunch.
It's the favorite part of the day for many students. Some students buy multiple meals per day to fill their stomachs, but how many know how much they´re paying?
Just choose your food, punch in your code on the little keypad, and you're done!
One meal costs $2.70.  Many students may be unaware of the price of a meal, and this could potentially lead to students blindly spending money on multiple drinks and meals.
Bennett St. Marie ('18), a student at BFA, eats the hot lunch on a daily basis.
¨Like, two,¨ St. Marie said when asked how many "meals" he buys per day.
¨I guess (the lunch price) is pretty mediocre," St. Marie said, but he had to think for a moment. His initial reaction when asked was that he seemed surprised by the number.
"No, probably not," St. Marie said when asked if he was going to change the amount of purchases he made on a daily basis.
Jennifer Bombardier, the "Site Supervisor" for the BFA Cafeteria, is employed by the Abbey Group.
Meeting the lunchtime food needs for hundreds of teenagers with differing tastes, while keeping their parents and the administration happy, while following federal and state laws, is clearly a big challenge. How do Bombardier and her staff do it?
"The whole staff that works up at the corporate (Abbey Group) office tries to make flavorful recipes that meet the USDA requirements," Bombardier said.
The USDA is the United States Department Of Agriculture, whose mission is provide leadership on food, agriculture, natural resources, rural development, nutrition, and related issues based on public policy, the best available science, and effective management.  It also sets guidelines for what can be served in public school lunch programs.
Speaking about about the amount of local food in the program, Bombardier said:  "We work with Vermont Farm Direct…They work with the farmers and producers to get food products to us so that we have locally sourced products."  Vermont Farm Direct  is the middleman that supplies the school with a lot of it's local ingredients.
"There's people who make gluten-free breads. Also, local organic meats, and things like that," Bombardier said.
It is not easy to get teenagers to eat healthy foods, but Bombardier and her staff try lots of different tactics.  
"We also do a harvest of the month every month. There's a different vegetable that is offered and it's served in different ways throughout the month, to try and get the students exposed to a new fruit and vegetable," Bombardier said.
How is success measured in the BFA lunchroom?
"We certainly look at our sales, I look at the amount of meals that are sold from each line and offering everyday and based on that I can tell if it's a really good main meal, if it's something that's not enjoyed so much then my "deli" numbers will go up, so I look at my numbers daily. I also listen to feedback from the students and overall, everybody seems to be happy with the lunch program," Bombardier said.
A 2016 New York Times article titled "The Real Problem With Lunch" spoke about the current problem with school lunches. One problem that the article addressed was the pricing of school lunches.
The article references a documentary by Michael Moore where Moore visits a village in Normandy, France. There, the students at a school are being served food such as scallops, lamb skewers and a cheese course, and amazingly, the chefs at this school are spending less money for this food than schools in America.
According to the article, the United States government provides a little over $3.00 per student, per lunch. In France the price is closer to $7.00 per student per day.  
This shows that American schools aren't necessarily at fault for the quantity or quality of the food.
It is also basic knowledge that teenagers can be picky eaters, and that the average student might not be willing to eat a certain meal that is being offered.
"A human has to taste something up to ten times to decide if they like it;  so, exposure,  exposure, exposure," Bombardier said.
Think about a food that you might have not liked when you were younger, but now you do like it.  
"It took a while for everybody to be on board with the whole grain bread, and the different options like kale chips and things like that, that we offer, but once they've tasted it, they've learned to have a liking towards things that they wouldn't normally have at home," Bombardier said.
While many students will always complain about the food, the portions, or the offerings, all in all, $2.70 for a full, nutritionally balanced lunch doesn't seem so bad.