French on duty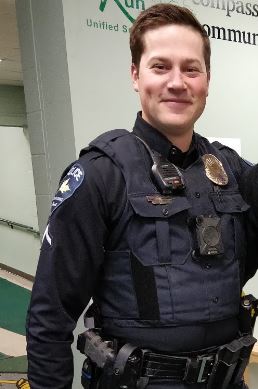 Here at Bellows Free Academy, officer David French is the schools new School Resource Officer.  He is replacing officer Paul Morits, who preceded French.
One of the first student resource officers according to Blackfoot Police was in the 1950's, in Michigan
"In the late 1950's, the first SRO program was started in Flint, Michigan.  Its overall goal was to improve the relationship between local police and youth," Sherling wrote.
Today, there are plenty of student resource officers; about 1,000 and counting, hired to protect schools as well as the students. This is part of Barack Obama's plan to reduce gun violence.
School Resource Officers written by director Gil Kerlikowske gave the reasons for why there is an increase for school resource officers and the reasons  why most schools have officers.
"President Obama's Plan to Reduce Gun Violence includes tools to create a safer environment at schools across the country and includes a call to put as many as 1,000 new school resource officers and counselors on the job," Kerlikowske wrote.
BFA decided to institute the addition of a SRO's  awhile back. A number of different officers have served, including, officer Talley and officer Morits.
French, new to the school, loves everything about BFA.  He enjoys every little bit of his job, from talking with the students at lunch time to talking with the teachers about the safety of their rooms and the environment.
"There is good a dynamic here.  A lot of different people here with different backgrounds, which makes it interesting.  That also makes it more enjoyable because of the diversity and you get to learn from everybody," French said.
He is very passionate about his job, taking every threat seriously and trying to enjoy high school time with students while doing his job.  He has two goals to achieve while he is here.
"Main role that I have is security.  I'm going over every room and making sure that it is secure and that there is no issues but, also talking with teachers in order to figure out where they find down fall in their classrooms," French said
He wants to become closer with the students and with the staff, doing his job and becoming part of the family here at BFA.
"My other goal is just getting to know everybody, and enjoying time with other students and having a good time enjoying high school.  I probably should have enjoyed high school more and this is my second chance to enjoy high school," French said.
Brennen Ingerson ('19)  enjoys the new School Resource Officer and how enthusiastic he is about his job.  
"I was at the lunch hanging out with my friends and officer French pulled up a seat and introduced himself.  We had a good time and he seemed pretty serious about his job," Ingerson said.
Ingerson pointed out that you can tell he is very passionate about his job and that he feels safe in school.
BFA offers a warm welcome to officer David French.