Alisa Aylward returns to BFA faculty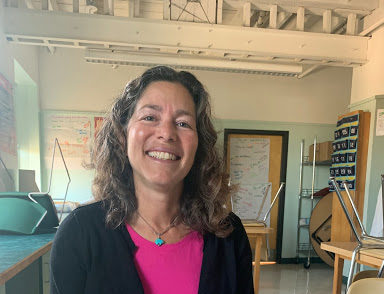 Alisa Aylward graduated in 1986 from BFA St. Albans. Mrs. Aylward  does not now attend BFA, but is a teacher here, teaching family consumer in the BFA Science Dept.,   while also teaching as a health teacher. 
Aylward has studied and had many different careers over the years, including going to college for a variety of things. 
"I have been to college for undergrad of fashion design and also got my Master of Science from UVM," Aylward said.
And Aylward has had extensive work experience, as well. 
"Before my first job working at BFA, I worked in the fashion industry in NYC until 1999.  1999 is when I got my first job at BFA. From 2012-2019 I had a job at MVU," Aylward said
When thinking about coming back to BFA to teach again, Mrs. Aylward's  inspiration was a teacher who taught her when she was in high school. 
"A lot of great teachers were here when I attended BFA, Mr. Ashton being one of them specifically. He made me believe in myself while having hope in myself," Aylward said.
Now that she's back, things are going well.
"I love all of my classes I teach, the students are great in all of my classes," Aylward said. 
Aylward said that her students definitely work better hands on with things rather than just accessing words in books or on the computer. 
"I have 4 children, an adult that actually graduated from BFA, and a husband that works in education too," Aylward said. The three other kids attend Fairfield Elementary and Middle School.
"Other than running around as a hockey mom, I enjoy cooking, swimming and hiking," Aylward said. 
Hiking the Notch when it's closed or snowshoeing are Aylward's favorites. She loves cheesecake and likes to cook lobster bisques.
"Making anything with my children . . . is hands down the best," Aylward said. 
To Aylward working here so far feels familiar, yet different too. Coming back to BFA to work again, Aylward still has some things to get used to. The schedule here at BFA is one of those things.  
As Aylward gets further into the year she hopes to forge good relations with her students, provide them with their needs and make them feel like her teachers did when she was in high school. 
While getting a good relationship with her students, she hopes to approach this and also have a sense of humor with students. 
The Mercury welcomes her back to BFA!