Matilda, the musical miracle comes to BFA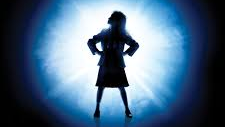 As another year of school commences, this year's school play, the musical Matilda, does as well! 
The original musical was first performed on December 9, 2010 by Musical Theatre International, MTI for short. The playwright was Dennis Kelly with Tim Minchin as composer and lyricist. 
BFA's adaptation has our own drama teacher, Susan Palmer, as director and Alexis Kamitses as choreographer. The lead, Matilda herself, is played by Adsel Sparrow ('20). 
This is Sparrow's first time in a leading role. While she has been participating in BFA's musicals since her freshman year, Sparrow's old roles were of supporting characters. 
Sparrow has expressed that while she is excited to be the lead, it's a lot different than what she's done before.
"Being a lead character, you carry the show basically in the sense that it's about you, it's about your character. So you have to be on top of it and be 'on' the whole time which is something else," Sparrow said. 
Because of her leading role, Sparrow has some challenges in her path.
"I have monologues that last for pages. In the show there are four parts of a story and that's just me talking while trying to also time it with the music. So I have entire scenes where it's just me talking and I have to memorize all of that," Sparrow explained.
On top of those challenges, Sparrow has the additional task of bringing her character to life. 
"She has a lot of specific gestures and movements and she's not exactly like a little kid, she's very smart. She sits very straight backed, she's very defiant so she kind of stomps around a bit, she has her little hands on hips pose, and just bringing her physicality to life is really fun," Sparrow said.
Going towards the dancing part of the musical, Kamitses is in charge of choreographing for the whole musical. Kamitses, while using some choreography from the original Broadway musical, has her own way of designing choreography.
"When I'm working with musicals I always start with the music first. I also start with the character development; so what's the feel of the piece I'm choreographing, what are the characters supposed to be doing and feeling and how can I bring out the character moments through movement. In musicals, it's really a mix of really creating movement that highlights what's going on in the scene rather than just pulling random dance movements and sticking them on the characters," Kamitses said. 
Choreography can take a long time to develop. Kamitses explains how long it typically takes her to design one songs worth of choreography.
"Usually what I do is I listen through the music first and I listen to the lyrics and then from there I'll start to set movement before I get to rehearsal, I'll set movement along with the lyrics. It depends on how long the song is, but it can take me an hour to choreograph through all the details of a song on my own, but then it's several hours of editing. So the initial process might be an hour, but then as you're working through the piece that is many hours of trying things out and changing, not getting too attached to some specific choreography and letting things ebb and flow as you're working through it," Kamitses said. 
Kamitses has expressed her excitement over seeing the final product of the play. She talks about her favorite aspect of the musical.
"I really love this musical because it's so fitting for doing at the high school level because it's about rebellion and kids speaking their minds, so it's really fun and upbeat. I'm looking forward to just seeing how everything comes together with the sets, the costumes, the singing and the dancing," Kamitses said. 
When asking Director Palmer about her own favorite part of the musical, she answered similarly. 
"I love the music and I love the humor, it is a very funny show. The music is really energized and the dancing is really energized and it feels very timely because Matilda is really an activist. She is a girl who does not have support from her family, but she finds one teacher who supports her and believes in her and the teacher's love of Matilda kinda forces the teacher to grow as well. Matilda's an activist and kinda finds her voice and has to stand up for the injustice that is going on in her world," Palmer said. 
Palmer expands on the idea of Matilda's message by mentioning one of the musical's songs. The song in question is titled Naughty and is the musical's fourth song.
"I love that song because some of the lyrics are – "just because you think that life's not fair, it doesn't mean that you just have to grin and bear it. If you always take it on the chin and wear it, nothing will change. Sometimes you have to be a little bit naughty.". So I really like that message." Palmer said. 
Matilda's script was not written by Palmer or anyone at BFA. Palmer was asked to change a part of the script in order to avoid any offensive material though. 
"There's one little piece that they asked me to change. Every now and then there is something that we uncover as offensive to modern ears," Palmer explained. 
In her role as director, Palmer has a lot of responsibility on her shoulders. Fortunately for Palmer, she has plenty of help.
"The musical is really fun because I have a music director, choreographer and all these other people who are thinking about it and caring about it. We can bounce off ideas, it's what I like about the theater is that you don't do it alone," Palmer said.
Not everyone is a big fan of musicals. Palmer has faith that anyone can enjoy Matilda. 
"It's really funny. It's a lot of British, dark British humor and it's also a children's play, but it's not just for kids at all. It's hilarious and really just smart," Palmer said. 
Matilda's opening night is November 21 and it will also be performed November 22 and 23. On the 23 there will also be a matinee, a performance that takes place in the daytime. Matilda is a timely, hilarious classic for the whole family to enjoy. BFA theatre hopes to see you there!