Club of the week: Scholars' Bowl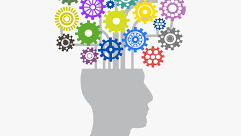 Note: Interviews for this story were conducted back when school was in session.
Do you have an array of knowledge of various areas of trivia? Do you want to share your knowledge with others, or perhaps want to learn more trivia? If you answered yes to any of these questions, this club may be right for you!
Scholars' Bowl is a club that centers around teamwork,  general knowledge, or trivia. The club offers an opportunity for students to compete in tournaments, but also flex their own knowledge on various areas of trivia.
Scholars' Bowl is run by Christopher Moore and Nate Archambault as co-captains and coaches. Moore teaches in the field of social studies and Archambault teaches English at BFA. 
Both teachers took over the club at the same time, with Joyce Kemp stepping down from the position to become the head of DECA for Vermont, as both have a history of loving trivia. Since then, Moore and Archambault have been co-running the club for around five years.
The club itself has a small arrangement of equipment that is used in their practices. The equipment offers a more authentic competition feel in order to prepare the team.
"We have purchased a buzzer system, or a lockout system as it's called. It's similar to what you see in competitions. We also have various question packs from some of the tournaments we've taken part of, or we can also find some of those online," Moore said. 
During Scholars' Bowl practices, team members will be preparing for future competitions, just like any sports team. 
"During the meetings we generally practice for the tournaments. The tournaments are team based trivia, all kinds of trivia; academic culture, current events. We set up as teams and we practice against each other, just like any athletic team does. We practice for the competitions as they come to us," Archambault said. 
Questions used during practices include math, literature, science and social studies based questions. The National Academic Quiz Tournament, LLC (NAQT for short) has these questions on their website.
One sample question from the NAQT website in the 2018 Small School National Championship
Packet 24 is, "Fathers and Sons popularized this term for the philosophical viewpoint held by Bazarov. Its name comes from the Latin word for 'nothing,'". The answer to the question is nihilism with nihilists or nihilistic also being accepted by the judges.
After running the club for so many years, Moore and Archambault have clear ideas on what their favorite aspect of the club is.
Moore enjoys the aspects of interacting with his students in a unique way, along with watching how the team develops over time.
"That notion of being able to interact with students outside of a classroom setting. It's just another way to get to know students and to see them through a four year period, grow, and see how the team has grown in that time," Moore said. 
Archambault also shares the enjoyment of seeing students grow over the course of their high school careers. His favorite aspect is when students, who may not know the answers at first, begin to learn them over time.
"What I really enjoy is, having done it for some years now, watching freshmen learn more over the course of their academic careers. They become much more well rounded in Scholar's Bowl as well. It's always interesting, freshmen at times can seem frustrated because they don't know a lot of the answers off the bat and that's generally because it's a lot of stuff that they haven't necessarily learned over their careers yet. As they become seniors, they learn a lot more in school and become able to answer more of those questions, so it is a testament to the work that they've been doing in their classrooms and what teachers are doing at BFA," Archambault said.
The club offers a unique experience with interacting with fellow students through all four grades and seeing yourself grow through a four year period. It is a team of students flexing their smarts instead of their muscles like a traditional sports team.
Generally the Scholars' Bowl team goes to around five to seven competitions a year. Those competitions vary from regional tournaments to multiple larger tournaments at the state level. The rest of the time the team spends their time practicing.
So if you want to flex your existing knowledge or want to learn more fun trivia, practices were held from 3pm to 4pm on Thursday in room A210, Mr. Archambault's room. Any and all are welcomed to join and compete in the 2020-21 school year!