Retiring – Sheryl Aliquo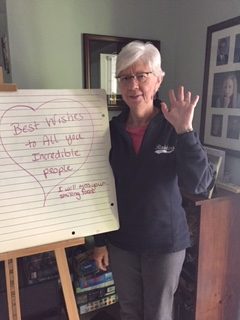 Sheryl Aliquo is a math teacher for grades 5-6 for St. Albans City School and was hired 20 July 1988.
Aliquo has worked at SACS since 1988, though it wasn't her first teaching experience.
"I have worked at City School for 31 years. I started teaching in 1980. So I have been teaching for 40 years," Aliquo said.
In all her years of teaching, Aliquo has found her own favorite part about it easily.
"My favorite thing about teaching is making those connections with others and those moments when the light bulb goes on. I especially love when I listen to students and hear their thinking that makes my thinking clearer," Aliquo said.  
Through the 40 years in total she has been teaching, Aliquo has some special stories.
"It happened about 15 years ago. There was a fourth grade student in my math class. We were comparing fractions. When he offered his thinking, it was a way I had never thought about before. It made so much sense. It stayed with me for all the days of my teaching. We called it the Timmy method of thinking about math," Aliquo said.
Aliquo expresses her hope about what her students have learned from her years of teaching.
"My hope is that I have made math clearer for students and that I reached some on a personal level," Aliquo said.
Since she has been teaching for many years, Aliquo has taught not just one specific subject, but a plethora.
"When I began teaching I was working with small groups of students in all subjects. Then I moved into a multiage 3rd/4th grade class where I taught all subjects. Then when we went to the community model, I began teaching math. I have loved teaching all subject areas, but especially math and science," Aliquo said. 
As her time of teaching comes to a close, Aliquo looks to the future and her retirement plans.
"Before this pandemic, I was looking forward to traveling a bit more. Now I am looking forward to sewing, gardening, getting together with others and spending time with family. The simple but important things," Aliquo said.
Aliquo also expresses what she wanted to achieve before retiring.
"As a teacher, I always have wanted to help students and others express their own thinking. Not only in math but in life," Aliquo said.
As Aliquo leaves SACS, she thinks of what she wants to take with her on her future journeys.
"As I leave SACS, I am taking my memories. Memories of the time spent with students and colleagues (friends)," Aliquo said. 
Just as she is taking something from SACS, Aliquo is also leaving something behind.
"As I leave City school, I leave behind a class full of hands-on materials to help students see and feel the math that they are trying to learn. My hope is that they will continue to be helpful to students," Aliquo said.
 As Aliquo closes one door of her teaching career, she is thinking ahead for her future plans.
"Next, I hope to stay connected with school in some small way. Not sure what that will be in these uncertain times. I would love to work with small groups of students as a tutor or mentor.  In addition I will be spending time with family and friends. Maybe a sewing group, reading group, traveling group (when the time is right), running, walking, exercising. Generally, I just want to continue to enjoy life and all it has to offer," Aliquo said. 
If you'd like to leave a personal message for Sheryl Aliquo, send her an email at [email protected] or send a letter to SACS at 29 Bellows Street, St. Albans City, in care of Sheryl Aliquo.