Schwartz Joins BFA's Special Education Department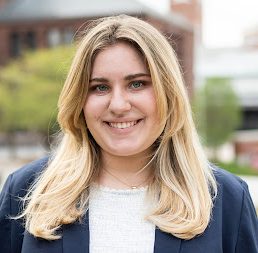 Emily Schwartz is one of the newest additions to Bellows Free Academy's special education department. After graduating from the University of Vermont last May with a degree in secondary education, Schwartz is making the transition into being both a special educator and a co-teacher in biology and health.
In response to her experience in special education, Schwartz said "special ed[ucation] is really my calling." With a dual endorsement in social studies and special education, Schwartz is quickly adapting to the beginning of her teaching career path. 
After growing up in Westchester, N.Y. Schwartz has resided in Vermont since the beginning of her college education. Schwartz said, "I'm a little bit of a city girl at heart, I do love the city, but I've loved living in Vermont for the past five years. It's been incredible, [and] I love seeing the seasons change. I'm not a big fan of the snow…in the winter you can find me baking or kind of curled up and not going outside." 
Having lived far away from Westchester, Schwartz loves to stay connected with her family, especially her grandparents. In her free time, Schwartz enjoys baking and cooking, and considered going to culinary school at one point, but decided against it.
Prior to coming to BFA, Schwartz worked during the pandemic remotely in health care. Her responsibilities involved talking to COVID-19 positive patients while helping them transition to getting back into the workforce post-recovery. Schwartz said it was an eye-opening experience to see how the pandemic affected so many people around the country. 
This school year is Schwartz's first teaching independently.
In response to prior teaching experience, Schwartz said, "I did a student-teacher internship last year at a high school in Vermont, but this is my first year teaching in general…I have not taught in a school without masks yet."
Schwartz's experience with remote learning from a student's perspective gives her the ability to do her job more effectively.  "I feel a real connection to [the] students here because so much of my education has also been remote. When I hear about student struggles during the pandemic and during remote learning, I completely empathize because remote learning is really really hard for me, too," Schwartz said. 
The new responsibilities she is taking on include teaching three academic skills classes and helping students either individually, or in a small group, with direct skill instruction in math, writing and reading. Working with students directly helps those who need support whether it's academically, socially or emotionally related.
"[It] has been great to get to know students more in a smaller setting," Schwartz said.
What stood out about BFA to Schwartz is the strong school community. When asked why she chose to come to BFA, Schwartz said, "I love my team in the learning center [because] they've been really supportive of me as a teacher…and I feel a part of BFA just in the first few weeks [of being here]…I was really looking for a strong community and a department that all works as a team."