A Farewell to Riley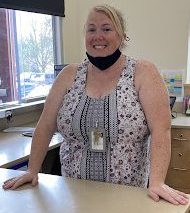 Angela Riley is the attendance monitor here at Bellow Free Academy and has made a positive impact on the student body.  Riley is known to students as "Angela," "Ms. Riley" or even "Kaylie's mom."  When asked about Riley, Alayna Carpenter ('23) said, "[The students] all love her." 
According to Ashley Seymour, ('22), "Angela always greets students and staff with a smiling face."
Riley is from Bakersfield and is a graduate of Enosburg Falls High School. Her daughter, Kaylie Richardson ('24), is a sophomore at BFA.  Riley has been working here since the beginning of the 2020-2021 school year after previously working at Four Seasons Dermatology. 
Riley is located in the connector and writes passes for students, directs visitors in the right direction, calls parents and answers the door and the phone. Prior to Covid restrictions, if you were lucky, you would even get a lollipop.
Riley's favorite thing about working at BFA is "the connection [she has] with the students." 
However, according to Riley, with "900 plus students, it can be hard to keep track of everyone." 
Unfortunately, starting this October, Riley plans to continue her career as a receptionist at Notch Dental. For Riley, the hardest part about this is "not seeing the students every day because [she] has a really good connection with them all."
"It's sad to see such a lovely face leaving the school," said Kaylee McKenzie ('22).