Fairfield's Trunk or Treat 2021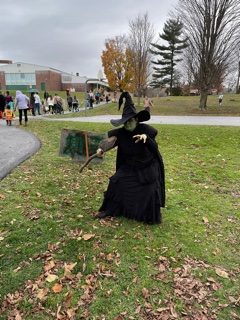 Despite the cloudy skies and occasional rain showers, Fairfield, Vt. residents came out in droves to enjoy this year's trunk or treat, coordinated by the Fairfield Recreation Department's Recreation Committee. The event took place Oct. 30 from 2-4 p.m. in front of the Bent Northrop Memorial Library.  The Recreation Committee members are volunteers and consist of Rebecca Chomyn, Desiree Branon, Damien Boomhower, Michelle Derosiers and Chad LaCroix.
In addition to the the trunk-or-treating, there was a Halloween walk with a "The Wizard of Oz" theme, which student and adult volunteers participated in, playing roles such as the Tinman, the Scarecrow, the Cowardly Lion, a flying monkey and, of course, Dorothy.
According to Chomyn, who is also a local artist, she put many hours into designing and creating the props for the walk, some of which included life-sized lollipops, a painted rainbow and a graveyard.
The walk was both whimsical and, at times, frightening when volunteers would jump from the bushes to surprise the participants.  Chomyn was dressed as the Wicked Witch, and her cackle brought both jumps and smiles to the children she "frightened."
Overall, it was a busy event to kick off the holiday season.