#JD STRONG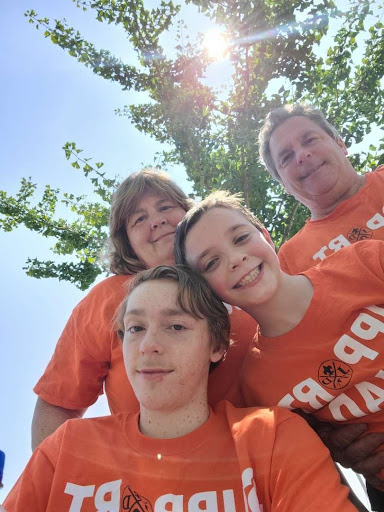 This past summer, Jonathan Douglas ('22), a senior at Bellows Free Academy, was involved in a near-fatal car accident on Route 105. He was airlifted to Dartmouth-Hitchcock Medical Center with life-threatening injuries; however, Douglas is making a remarkable recovery.
Douglas ('22) has been cheerleading for around six years; he cheered for the Raiders in elementary and middle school and has cheered for BFA since his freshman year.  In his junior year, he joined Elite Gems Cheerleading.  As a result, Douglas is a big part of the cheer community.
Many people within this community organized and participated in fundraisers to help the Douglas family with financial strain from the accident.  One of these fundraisers, in specific, is the #JD STRONG bracelet fundraiser. Organized by Tracy Holland, a friend of the Douglas family, Holland initially ordered approximately 800 of the orange bracelets and is continuing to sell them. At $3 a bracelet, they can be purchased at the Sheldon Mini Mart and Elite Gems Cheerleading gym. 
"[The bracelet] fundraiser has not been as successful as I had hoped. It started off great, but has gradually tapered off," Holland said.
Holland sold the bracelets at the majority of the BFA home football games including the homecoming game and this year's Powderpuff game. Holland plans to continue the bracelet fundraiser during the basketball season as well. 
"Jon and his family… still need the help of this community, so I will be at the games trying to do my part," Holland said. 
Although her table [at the games] consisted of the bracelets and a poster announcing why she was fundraising, a donation jar was also an addition to that table.
"When I decided that I would purchase bracelets and set up a table, my daughter suggested a donation jar. I have made more in the jar than from the bracelets… I still have roughly 600 bracelets I hope to sell by the end of the year," Holland said.
Before the bracelets, Elite Gems Cheerleading organized a T-shirt fundraiser in support of Douglas and his family. The bright orange shirts labeled "JD STRONG"  match with the orange silicone bracelets. 
"The support that has been given to me and my family is impressive; never have I thought that this many people care about… my wellbeing… [the fundraising that] is still going on… is making my recovery feel way faster," Douglas ('22) said.