Stowe's The Backyard Restaurant Review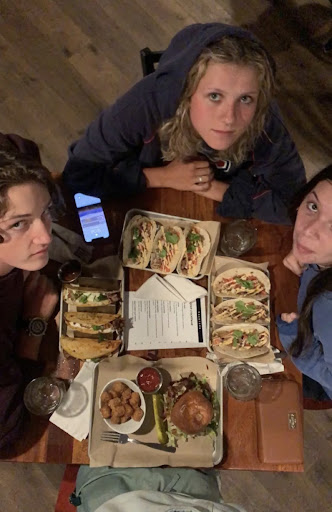 The Backyard may look like your typical Stowe tourist trap restaurant, but it's much more than that. The Backyard is not only bursting with classic Vermont culture but bursting with flavor in every bite you take.
After going swimming at Bingham Falls on a cold rainy evening with some friends, it was originally a last resort because everywhere else was booked.  We just needed somewhere to warm up and get dry, but The Backyard is now at the top of my list for Stowe restaurants. Although the atmosphere was a little bleak and the waitstaff took slightly longer than expected, the food had no relation.
We started off with duck wontons to share. It was a bit of a random pick, but our needs were met, to say the least. The duck wontons were made of duck bacon, sweet corn and cream cheese wrapped in a fried wonton shell. I also can't forget to add the dipping sauce they came with. The combination of the salty duck with the sweet corn and the smooth cream cheese was perfectly crafted to satisfy my tastebuds. The dipping sauce was the cherry topping adding a bit of salty but sweet tang.
After our appetizer, we got tacos. I chose the shredded chicken taco. It consisted of three small smash bun tortillas holding grilled and braised chicken, with Pico de Gallo, Cotija cheese, cilantro, and sriracha lime aioli. The sriracha lime aioli was drizzled on top of the tacos, garnished with diced tomatoes and lettuce. The ratio of contents to tortilla wasn't overwhelming, ensuring every bite was a good one. You could also really taste the chicken, unlike some tacos where other ingredients can be overwhelming.  If you aren't a spice lover, don't be scared, the balance of spice to smooth in this taco was formed to a "T."  This taco's fuse was a 10/10 in my book.
After visiting The Backyard, I made sure to give them five stars on Yelp; the food was just what I needed to wrap up a cold rainy evening in the mountains.