Goodhue's Goodness Remembered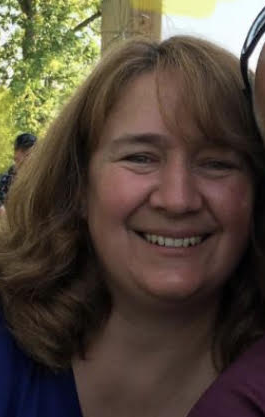 Brenda Goodhue, who passed away Nov. 6 2021, was an integral part of the Fairfield Center School community. According to kindergarten teacher Sherry Peyrat, before being hired as the school secretary in 2014, she volunteered for a variety of positions including Room Parent, 4 Winds instructor and substitute teacher, while also having three children attending FCS. 
Goodhue's office was the central location in the school, and whether someone needed a stamp, a phone number, a bus route or a piece of candy, Goodhue was able to provide it.  Her knowledge of the student body, bus schedules, home phone numbers and the Fairfield community allowed for her presence to act as a positive force for FCS to thrive.
Interim principal Kelsey Malboeuf described Goodhue as "the quiet force behind Fairfield Center School." She added "She kept everyone running…[and she] was the heart of the school, setting a positive tone for everyone to have a great day. She was kind and welcoming to anyone that walked in the door."

Despite Goodhue's quiet nature, whenever she had something to say, people around her would listen. Her compassion for others and honesty was unwavering. 
According to Fairfield school counselor Kelly Sargent, "Brenda was the keeper of the gates. She knew everyone and looked out for them. She had an innate ability to notice when a student was having a difficult time…I relied on her when looking for professional or personal advice. She would tell me what I needed to hear, which was not always necessarily what I wanted to hear. That's what made Brenda, Brenda. And I loved her for that." 
Other colleagues opted to share a memory of Goodhue with The Mercury, including 3rd-grade teacher Madison Sanguinetti:  "I think my favorite memories of her are from the summers before the school year began. I like to come in a few weeks before school to set up my classroom. I would always make a point to go to the office and see Brenda. On a few occasions, I would go in and she would be picking out little gifts for students. She wanted to make sure that if anyone went to the office on their birthday, they would be able to choose a special Miss Brenda gift. She spent so much time choosing these gifts and working to ensure she picked something out that the students would enjoy…She had a way of quietly being present and caring without overshadowing others. We all knew she was there for us."
Debra Branon, the school custodian, added "Brenda was so good and so patient with me; she was so kind. She loved her job, she loved people and she was the best person around that anyone could ever need."
Kindergarten teacher Morgan Hale recounted Brenda's humor and empathy. "Brenda would always brighten my day. She would always know what to say to make me laugh. I would always walk in and she would ask 'how are you?'  I would reply 'great' with her knowing it was a front, [and] she would always laugh, and I would, too." In reference to Goodhue's humor, Hale noted "Her laugh was the best. It would make my day better no matter what." 
Brenda Goodhue's kindness and helpfulness to parents, students, faculty and staff will be remembered.  
"She is an irreplaceable member of this community; it is something that [we] will never get over," Malboeuf said.