Student and Community Voices Come Together at VSO's Riots and Prayers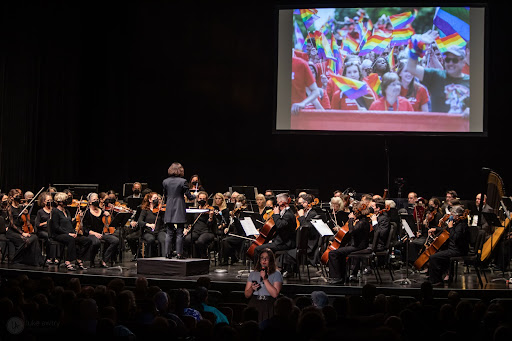 Vermonters gathering to spread awareness on important topics is nothing new but Daniel Bernard Roumain, the director of Riots and Prayers, gave Bellows Free Academy junior Rachel Ledoux and school board member Reier Erickson a new platform to share their voices on. 
The premier of Riots and Prayers was held on Sept. 17. According to Ledoux, it combined the Vermont symphony orchestra and local voices. Each speech was written by the five speakers who had been selected out of over 45 different applications.
Ledoux said she was approached by the organization Outright Vermont, which she currently has an internship with, to apply to be a part of this performance.
According to Erickson, he was approached by his friend who thought he would be a powerful addition with his theater major background and large involvement in the community. 
"They were really adamant about not censoring our creativity," Ledoux said.  She added, "They wanted the speakers to be 'open about their experiences.'" 
Erickson said he shared his experiences as a minority in St. Albans and the fact that saying a black life matters is the bare minimum. 
According to Ledoux, she talked about Vermont's relationship with LGBTQ+ members and its relation to other states along with her experiences attending school. 
Other students talked about gun control, Ledoux said. Ledoux recalled when her peer's speech ended with, "I'm 16, I don't want to be next" and that she felt a connection to their words. 
The students not only made a huge impact on the audience but also on fellow performers.
"I'm in awe of [Rachel] and those two other students who spoke because it's hard," Erickson said, referring to young people putting themselves out there.
Ledoux said she was inspired to speak up because of the many acts of LGBTQ+ oppression she was seeing on the news. This helped her put any nerves she had aside, and she said she "knew what to do" at the moment.    
When asked why he was moved to say yes to participating, Erickson said "I think it's important that we all use our voices when we can."