Comets Claim a Comeback Victory Over the Thunderbirds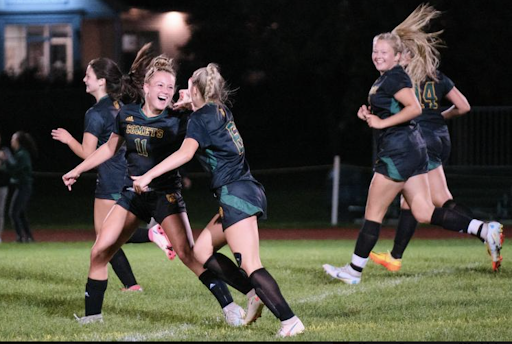 According to Aaron Browning ('22), "the BFA student section was absolutely buzzing" as #6 Alayna Carpenter ('23) ripped a shot from behind the box smashing the ball into the left corner of the net and setting the tone for the Comets' soccer victory against Franklin County rival Missisquoi Valley Union High School (MVU).  
Just a few weeks before their victory, the Comets were upset by MVU in a 1-0  loss on Thunderbird territory.
In order to get their revenge, both the Comets and Thunderbirds came together on Sept. 14 under the lights of the Collins Perley Sports Complex for a classic Franklin County re-match.  
"We visualized. We knew we were going to win this game. We were seeking revenge, and we got it," Comet forward Molly Smith ('23) said. 
With a tough first half going back and forth with the ball, Comet player #1 Isabelle Montange ('26) made a quick pass to Alayna Carpenter ('23) to secure the first Comet goal. 
What really shifted tension in the second half was Thunderbird #11 Madison Guyette's ('23) tackling foul of #16 Abby Lewellen ('25) that cost the Thunderbirds a free kick from 20 yards out. This is where Tessa Sweeney had her bar-down snipe that came just out of reach of MVU goaltender Abby Raleigh's ('23) hands.
The Comets then came together for a celebratory huddle with smiles all around. 
"Tessa's goal was just absolutely electric; the way her leg wound up and blasted the ball to the back of the net, the goalie couldn't stand a chance," Comet goaltender Ayla Shea ('23) said. 
The Comets ended the second half of the game with a 3-0 comeback win over the Thunderbirds. 
"I thought that it was an absolutely deserving win, and the girls worked really hard, which showed throughout the game and in the ending outcome," senior captain Drew Ducolon ('23) said.