BFA's New Start Time Provides Promising Data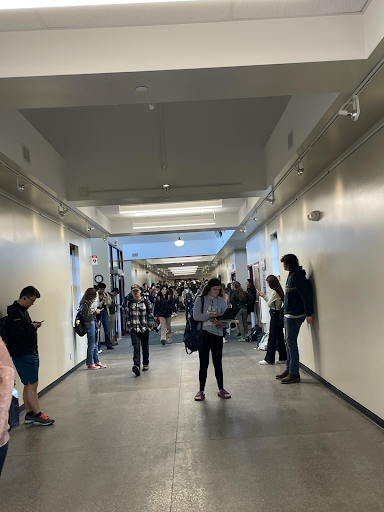 According to Bellows Free Academy guidance counselor Elaine Archambault, due to how teenagers' brains develop, and their late-night behaviors, their "brain[s] should get around nine hours of sleep a night."
On Aug. 8, 2022, the Maple Run Unified School District announced to Bellows Free Academy students that school would start at 8:10 a.m. every day of the week for the 2022-2023 school year. Previously, BFA started at 7:30 a.m. on Monday, Thursday, and Friday and 8:10 a.m. on Tuesday and Wednesday. 
This new start time allows students to meet with teachers in the mornings before school, and it has been helping students get to school on time. 
Ashey Geraw, the BFA attendance monitor, said, "Students are able to get here on time starting at 8:10 versus 7:30."
In a poll released by The Mercury, 56.1% of the 62 participants said they were averaging six or less hours of sleep a night last year. With the later 8:10 start time, that number has been reduced to 25.8%.
That data isn't the only promising information from the change. According to new attendance data provided by BFA principal Brett Blanchard, an average of 23 students missed school on Tuesday, Wednesday and Thursday during the first week of school this year, compared to 123 students on average last year.
However, not everyone has been happy with the 8:10 a.m start time. According to an anonymous source who responded to The Mercury poll about the new start time, this person still "get[s] up at 6 a.m. so [they] can catch the bus just to get here by 7:15."