Former BFA Administrator Robert Levis Remembered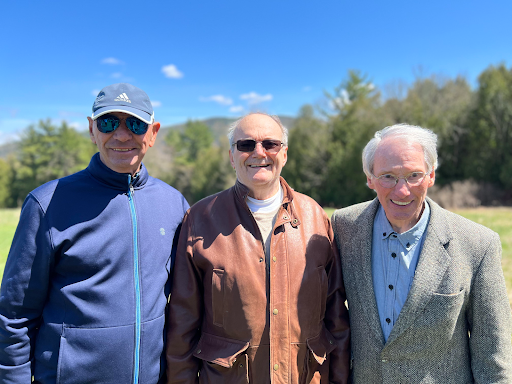 Robert "Bob" Levis, a former Bellows Free Academy administrator, passed away on Nov. 4.  Levis's kind and helpful attitude left a lasting impression on many members of the Bellows Free Academy community.
BFA music teacher, Eric Bushey, said he first met Levis when he was on the interview committee interviewing Bushey about taking over a vacant music teacher position. There was a large hiring committee for the position, and Levis was the head of it.
During the interview process, "He was really kind. I then got the job," Bushey said.
Bushey and his family got to know Levis outside of school because Levis was a musician, and his wife is a talented singer. Levis, Levis's wife Jill and Bushey's wife all sang in the choir together.
"We went to concerts together," Bushey said. "The more I got to know him as a friend [and] a father to his children…I have a lot of respect for him. He [was] a good role model." 
According to Bushey, when Levis was preparing to sing the Mozart Requiem for the Aurora Chamber Singers concert in Burlington, though feeble, Levis attended rehearsal weekly with Bushey's wife to prepare the piece. Levis passed away prior to the event. 
Bushey said he attended the event on Nov. 13 and that a member of the chorus stood up before they started and reminisced about Levis. They said how Levis was one to mention how he felt about you.
"Bob was really good about that," Bushey said. "He didn't shy away from telling you that he loved you."
Bushey added, "They did a beautiful version [of the requiem]. It was really powerful…There were a lot of tears in th[e] audience because a lot of people knew him. It was such a fitting tribute."
Levis also made an impact on multiple teachers at BFA. 
Luke Cioffi, a math teacher at BFA, said, "Bob Levis was the administrator when I first started teaching here in 1992. He was always a welcoming individual that I thought led by example."
As a young teacher, Cioffi said that Levis served as a good role model.
"He was somebody, even after he retired, [who was] always welcoming to have a conversation, so a good friend," Cioffi said.
Karla Kane, another math teacher at BFA, said, "Bob Levis was one of the most caring, compassionate, supportive and genuine administrators we have had in my 34 years at BFA."  She added, "He always went out of his way to check in with staff or students who were having a tough time, and he truly made a positive difference in the lives of many of us."
Dee Christie, an art teacher at BFA, also had some warmhearted words to share about Levis: "Mr. Levis was one of the nicest, kindest, most sincere people that I ever met. He had a big heart, and he cared about everyone. He's missed a lot." 
Levis not only left an impression on teachers but also on the staff.
Jennifer Bombardier, the site supervisor for The Abbey Group at BFA, mused over Levis and his profound impact. "When I started here, Mr. Levis was headmaster. I was nervous, and he just made me feel so comfortable," Bombardier said. She added, "During Levis's time at BFA, he would often go into the cafeteria and talk with the lunch staff, making them feel like they were a 'part of the team.'" 
Levis continued to visit BFA even after his retirement.  "He would stop in and visit. He would just check in on us," Bombardier said. "He always made us feel so special, and the kids just loved him. He always engaged with the kids in the cafeteria."
Levi's kindness left a mark on many of the people he encountered throughout his life. He will be remembered as a role model, a helpful and compassionate person, but most importantly, as a friend and family member.