Ludlam ('24) Takes the Leap: Publishes First Book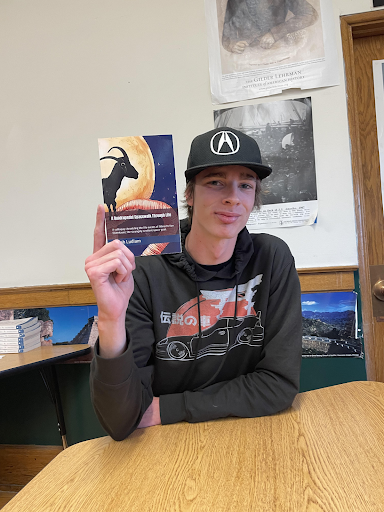 Isaiah Ludlam ('24) is a junior attending Bellows Free Academy. He has written a book titled A Quadrapedal Spacewalk Through Life about a philosophical goat and its adventures through space. Ludlam recently shared with The Mercury his experience of writing and then publishing this book.
Ludlam said that he began writing this book for a science fiction writing competition. He learned of this competition from his cousin. Ludlam cited his inspiration for writing this book as The Hitchhiker's Guide to the Galaxy:  "I wanted to write something similar… I hadn't seen anything like it."
Ludlam said that he believes the key to writing is to write whatever comes to your mind first and go with it. 
"I really liked coming up with the ideas… Having an outlet to put all those [ideas] on a page and make a story out of it is not something I get to do very often," Ludlam said.
According to Ludlam, he had a very positive experience with this book and never really felt stressed.
"It kept me engaged throughout the whole book. There was never a slump where I couldn't write anything," Ludlam said. 
Ludlam was able to get his book published through Amazon. "Holding the actual printed book in my hand was the coolest thing ever," he said. According to Ludlam, it wasn't difficult to get the book published through Amazon. All he had to do was send them his writing, and Amazon handled the rest.
Ludlam said that having a way to get your thoughts down on paper is important. "You're not going to write about philosophical German space goats for your AP writing class," Ludlam said.  He added that you need a way to express your thoughts outside of a school setting.
According to Ludlam, the praise and congratulations he has gotten from this book are gratifying. Seeing his work be complimented has encouraged him in his writing; he said that he plans on writing two more books in a similar vein to this one.
Ludlam did not win the competition. However, this did not dishearten him as he said his purpose in joining the competition wasn't to win. 
"I want[ed] to show those judges something they'd never seen before and won't see ever again," Ludlam said.