BFA Students Pair Up to Perform Classic Rock Hits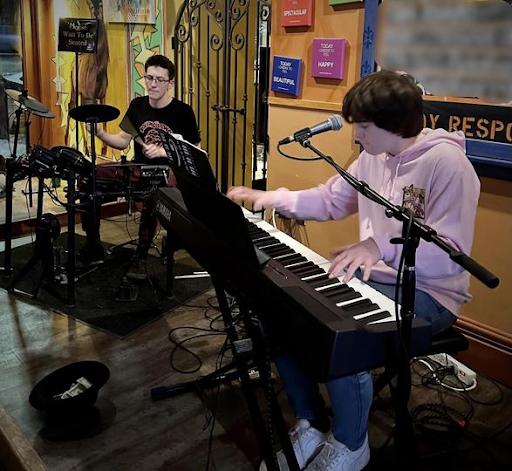 On Jan. 27, patrons of the Twiggs American Gastropub got a side of classic and experimental rock with their dinners courtesy of Bellows Free Academy students Nicolas Farinaccio ('23) and William Austin ('23).
According to Austin, his sister helped the two book their gig after she sent the establishment a video of his performance at Jeffersonville Tavern.  Twiggs got back to Austin and gave him three show dates to play (despite one of them being canceled due to bad weather in December).
With these show dates in hand, the duo performed for several hours, and Twiggs patrons like BFA math teacher, Karla Kane, were enchanted with a combo of music inspired by Pink Floyd, Billy Joel, Elton John, etc. 
"Nic Farinaccio and Will Austin were absolutely phenomenal…They played an awesome selection and I can't wait to hear them again," Kane said.
Austin said he had gotten into music through an old out-of-tune piano he had discovered at his house. 
Meanwhile, Farinaccio said he had gotten into music through school band classes, learning to play instruments like the recorder and clarinet, before becoming interested in playing the drums in the 7th grade. However, he didn't get his first drum set until "about two years ago."
Austin said they formed a band because "music is always more fun when you play it with people."
The Twiggs performance wasn't their first rodeo. The two said that they were convinced by BFA music teacher, Eric Bushey, to participate in Harwood Union High School's first Battle of the Bands.
 "It was a really positive environment for the musicians and getting to speak and meet them…was also great," Farinaccio said.
 Austin chimed in stating that it was also fun to participate in "a competition where you could earn money."
Austin and Farinaccio came in second and earned $250 for their hard work 
If you weren't able to catch their first show, Farinaccio and Austin have another performance at Twiggs on Feb. 24.