From Educator to Union Leader: Donald Tinney's Path to Making Change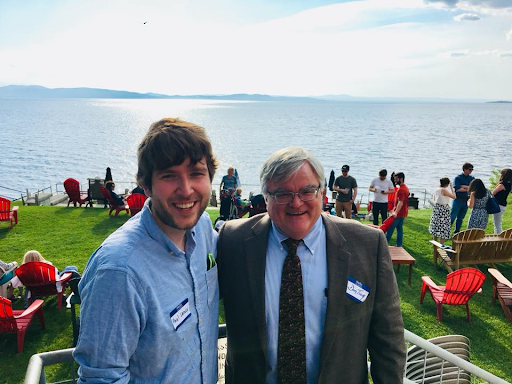 Bellows Free Academy is no stranger to alumni making strides in the world once they have graduated. However, it is less common to hear about the work of former BFA teachers. The Mercury got the chance to sit down with one of them: Donald Tinney, a former English teacher of 31 years.
Tinney currently serves as President of the Vermont branch of the National Education Association, which represents nearly 12,000 educators across Vermont and is "the largest union in the state." However, Tinney didn't originally plan on becoming an educator. 
"I never would have envisioned I'd end up here," Tinney said.
Instead, Tinney got his start as a journalist.
Early Career
After graduating from the University of Vermont with a degree in Mass Communications in 1980, Tinney spent some time working for local newspapers, doing freelance journalism and even published a book, titled Vermonters. 
"I had a good start to a career in journalism and writing," Tinney said.
However, Tinney's budding journalistic career was halted by a sudden epiphany.
Gary Iverson, one of Tinney's high school coaches, had died unexpectedly in a tragic household accident, and Tinney had been moved to visit his grave in an effort to connect with him postmortem. According to Tinney, Iverson had a large effect on him as a student and was a strong role model.
"He was cut from the same cloth as Dan Marlow," Tinney said. "Great men of dignity and integrity."
Tinney's shift into the educational field came as he began to think about the impact of Iverson's death on his students.
"I was driving out of the cemetery, [and], for some reason, started to wonder about who took his place," Tinney said. "Who would be there for kids now, the way he was for us?"
This spurred Tinney down the path of education as an English teacher. 
He returned to UVM to earn his certificate in teaching, then student taught before departing to teach briefly at a special needs school in Massachusetts.
After that, Tinney taught at the Vermont Academy, a boarding school in Southern Vermont, for six years, followed by stints at Middlebury Union High School and Milton High School before coming to BFA.
While at BFA, Tinney taught English in room A-208 – now Keith Carlton's room. Tinney joked that, "A-208 has never been the same [since I left]," but noted an appreciation for Carlton and his work.
Even now, far removed from the classroom, BFA still has a place in Tinney's heart.
 "My only regret in taking the [NEA] job is that I had to leave BFA," Tinney said. "I miss it every day."
Getting Involved with Education Activism
Tinney's career shift into administration and advocacy began when he joined a task force committee surrounding teacher and administrative evaluation. 
"I spent a lot of time representing teachers on that committee, determining what the state guidelines would be for evaluation [of] both teachers and [administrators]," Tinney said. He continued, "The task force spent a lot of time and energy on fighting against attaching standardized test scores to teacher evaluations."
It was this initiative that led to his appointment to the Vermont Standards Board and, after that, the Vermont NEA.
The Vermont NEA President at the time was approaching the end of her final term, and there was a lack of demonstrated interest among other members as to assuming the position. 
"I was on the Board of Directors, and people said, 'oh, you should run for this position, since no one else is in the wings,'" Tinney said. "So I ran unopposed and won."
Tinney described his role now as being a mouthpiece for educators in both Vermont and Washington D.C.
Working with the Vermont NEA
According to Tinney, the Vermont NEA works to deal with issues regarding legislation, lobbying, etc. in relation to education. Currently, a primary focus is on the rising cost of healthcare, but Tinney notes that a variety of issues cross his desk daily.
No two days are the same for Tinney as President of the Vermont NEA.  The one overall theme, Tinney explained, is an abundance of meetings. Between discussions of education policy to labor issues, a great deal of Tinney's job involves meeting with others.
Tinney also noted the importance of relationships in his position, particularly with the Secretary of Education and Agency of Education. Tinney is also chairman of the Board of Directors, which handles the financial aspects of the organization and ensures that the Vermont NEA has an effective budget to work with.
 Above all, though, Tinney stressed the importance of listening to educators when making policy changes, both for him as the labor union President and for legislators.
"The policymakers need to hear from the practitioners," Tinney said. "But if that's not possible, [because] they're all in school, [then] it's up to our lobbyists to do that."
Moving Forward
When asked about goals for the Vermont NEA in the future, Tinney shared his aspirations in regard to educators.
"Every school must be a sanctuary for every student," Tinney said. "And the way we [achieve] that is by strengthening our public education system and strengthening the educator voice within that system."