"A Magical Experience:" AP Language's Great Gatsby Party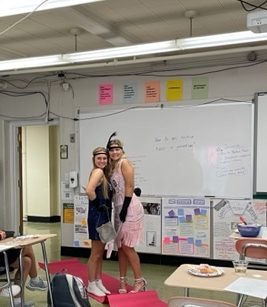 On June 6 and 7, Larissa Hebert's AP Language and Composition classes took part in The Great Gatsby 1920s party, an annual tradition and staple of the course.
Required reading for the class, The Great Gatsby by F. Scott Fitzgerald, is set in New York City in the 1920s. So, to celebrate completing the book, AP Language students put on a 1920s-inspired party.
Each year, students enjoy 1920s food, music and time-period presentations. Some dress up in outfits and accessories from the time period, provided by Hebert. This is looked back on fondly by past AP Language students.
"The Great Gatsby party was definitely the best part of the unit," Nick Crespin ('23), who took AP Language last year, said. "There was a lot of buildup to it."
This year, three AP Language class periods took part in the celebration. There were some variations in each period's class, in terms of content. Each party included food, music and costumes, but there were a few separate presentations class by class. 
For example, according to Hebert, the third-period class put on an auction, complete with candy from the 1920s. Alternatively, one highlight of the sixth-period party was a montage performance of various 1920s dances by Sarah Ann McConnell ('24) and Sophia Sinagra ('24).
According to student feedback, the classes seem to have had an enjoyable time. Some even noted that the party was preferable to the prior reading of the novel.
"It was fun to see everyone get into the spirit of it all," Penelope Noza ('24) said. She added, "Great Gatsby [was] mid, but the party was great."
As Hebert explains, however, the success of the party is primarily reliant on student participation.
"Students get out of it what they put into it," Hebert said.
And, from the sounds of it, students got quite a bit out of it.
"It was a magical experience," Maura Thompson ('24) said.