Good luck Mrs. Doig!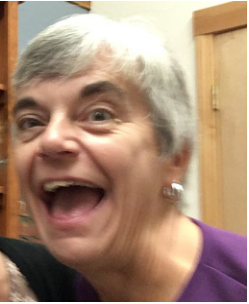 BFA's own Debbie Doig is retiring from her position as guidance secretary, and passing on the duties of the position to another BFA employee: attendance monitor Desiree Gunter.
Debbie Doig began her work at BFA in April 1995 for the SIT (School for International Training) Program. She became the guidance secretary in September 1995, and stayed at that position until December 2017.
Before she began working at BFA, she worked at Saint Albans City School (SACS).
"I worked at City School for nine years. I don't even remember when I started there but I worked in the cafeteria, monitoring lunch periods. Then I worked in the library, then I worked as a para (educator) in the grades," Doig said.
Doig moved from SACS to BFA in order to work with older students, and to be with her children, who attended BFA when she started.
Although Doig isn't sure on what she wants to do after her retirement, she has some ideas.
"I am not sure, we would like to spend some time in Florida during the winter. I enjoy biking, kayaking, reading, and I have three grandchildren in the area so I plan on spending some time with them," Doig said.
Doig believes that Gunter will do well with this new position.
"I'm sure Desiree is going to do a great job. She is great with people; she is great with everyone. Just remember that you can't do everything, and you can't please everybody all the time," Doig said.
Doig is appreciative of her co-workers, saying, "I would like to thank them for all the years I've been here and the support that they've given me through good times and bad. And, know that I will be thinking of them in the future."
Doig also mentioned that she will miss seeing the staff and students every day.
Doig received many messages about her retirement.
"[I will miss] her playfulness and humor, her attention to detail, her good memory," Preston Randall, director of guidance and friend of Doig for 17 years, said.
"Simply, I love you and miss you and wish you the BEST. Go to Greece. Enjoy time with your family and know you are in my heart always. Call me whenever you need anything.  You have given me so much," Judy Breitmeyer, guidance counselor at BFA, said.
Breitmeyer has known Doig for 13 years. She describes Doig as the sister she never had.
"I will miss her smile, dedication, and knowledge around just about everything.  She is one of the nicest people I have ever met, and someone who was always there to help out when there was a need," Chris Pepin, guidance counselor at BFA, said. He has known Doig for four years.
"I will miss her effectiveness as guidance secretary. She had a wonderful attention to detail and was excellent in ensuring our communication to parents was well written and clear. Best wishes in your life after BFA. We will miss all you did for our students and school," Chris Mosca, BFA Principal, said.
Desiree Gunter, who is currently the attendance monitor at BFA, took over Doig's position. Gunter worked other jobs before coming to BFA.
"I worked at Saint Albans City School for eight years. I worked a bunch of places [before that], but I took ten years off to raise my kids," Gunter said.
Gunter must learn different skills to adapt to her new position.
"I have to learn some new Microsoft applications, that I haven't worked with very much before, so my plan for over the break is to try to work on those skills," Gunter said.
The guidance secretary position will be a change for Gunter because she will not have to do attendance, but will have to do many functions for the job that are new to her.
"It seems like in guidance, from my training, I will be doing a lot with college scholarships and inputting seniors [information]: where they're headed, where they've applied to, making guidance appointments, and typing letters, things like that," Gunter said.
Gunter then elaborated on her attendance monitor position.
"So it will be a lot different than what I do here. I basically track all of the students here all day; make sure students go to class, bring up reports, figure out who is excused, unexcused…" Gunter said.
Employees at BFA shared their advice for Mrs. Gunter and taking on this new position.
Randall's advice for Mrs. Gunter is to be herself.
"We are so lucky to have Desiree Gunter joining our Guidance family.  She is kind, steady and compassionate. Welcome. Get ready to laugh a lot. We are a great family," Breitmeyer said.
"Mrs. Gunter will be great and I think she will be super at her job even though she might do some things a little different than Deb did," Pepin said.
"Mrs. Gunter will do a great job in guidance. She has been a strong addition to our staff for the last 3 years!" Mosca said.
The entire BFA community of faculty, staff and students send their best wishes to Mrs. Doig in her retirement.  Enjoy the well earned time off.
And the best of luck to Mrs. Gunter, who moves into one of the busiest chairs in the entire school!