Comet Hockey Makes a Return for the 2022-23 Season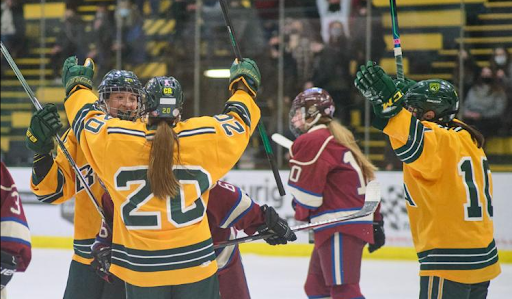 The Bellows Free Academy girls' ice hockey team had an undefeated season going 22-0 in the 2021-22 season. This year brings new players with fresh talent, but will the Comets succeed without their tactical 'three offensive' line? 
The Comet's first-line forwards last season consisted of three players: Jodie Gratton ('23), Caroline Bliss ('24) and Brianna Jarvis ('23). These three led the team with 115 points: 59 assists and 56 goals out of the 270 points total throughout the 2022 season.
Jodie Gratton nearly set the new all-time record for 46 assists in her 52-game career. Unfortunately for the Comets, both Bliss and Gratton have gone to further enhance their hockey careers playing at Proctor Academy and The Hotchkiss School, both preparatory institutions, with hope to extend these opportunities in order to play Division 1 college hockey. 
Despite losing these two players, the Comet hockey program plans to again dominate their competition. Their #1 competitor last season was Spaulding High School, whom they played in the Division 1 Ice Hockey Championship game, where they won 3-2 with Annika Fersing's ('23) game-winning snipe. Spaulding High School has lost some of its key players to prep as well including Chelsea Bell, Portia Berard and Corrina Moulton.
Head Coach Luke Cioffi and Assistant Coach Jeff Rouleau, who have led this program for over 20 years, now will make their team selections starting on Monday after Thanksgiving Break. The Comets have 18 returning players from their 2021-22 roster with only five graduating seniors last year. There are only a few spots for new and upcoming players to replace. In previous years, freshman players who didn't make the team had the opportunity to continue to improve on the St. Albans Skating Association 14U team. This year, according to Ashley Geraw who is a parent of a freshman, the girls will no longer have this opportunity because they have "aged out' of the division. Therefore, the Comets may have to accept extra practice players onto the team even if there are not enough jerseys to pass out. 
The Comets make their first appearance on the ice in the 2022 Christi Corrigan Blitz dedicated to, and in memory of, former Comet alumni Christi Corrigan who passed away from cystic fibrosis. If you would like to show your support for those in your St. Albans Community, pop in to the Collins Perley Sports Complex on Dec. 9 at 7:30 p.m. for a classic Comet home opening showdown against visiting Hingham Massachusetts.