"The Bond They Share"- Branon Cousins Pursue Social Work to Make a Difference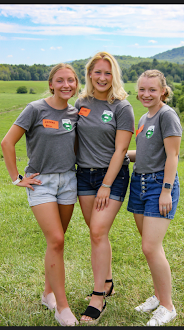 Laura Branon ('14), a Bellows Free Academy St. Albans and University of Vermont graduate, paved the way for younger cousin Leah Branon ('20), who is a Bellows Free Academy St. Albans alumni and junior at the University of Vermont. Both Leah and Laura attended, or are currently attending, the University of Vermont's College of Social Work and Education and grew up in Fairfield, Vermont. 
The Mercury recently sat down with Laura and Leah to learn more about their experience working within the field of social work and the bond they share. 
How it Began: 
Before she began pursuing a minor in studio art along with a Bachelor's in Social Work, Leah explained that "[growing up on a farm] taught [her] the importance of family." 
Leah's creative eye and niche for the arts was fulfilled during her time at BFA, which she described as, "a sense of community. A family." Leah was a member of Bellows Free Academy Theatre productions including Godspell, Shrek the Musical and Matilda. At BFA she assumed several lead roles and pursued her passion for the arts.
Leah said she was also a member of the school band, chorus and several clubs. 
"[The arts] gave me the courage to put myself out there," Leah said.
Meanwhile, Laura Branon said that she first gained interest in the field of social work through Northwest Career and Technical Center Human Services Program, where her teacher, Sal Wiggins, introduced her to the field.
"I did a presentation on social work, which first got me interested," Laura said.  She added, "[Wiggins] thought that I would be a great social worker."
Originally, Laura explained,"[I] wanted to be a guidance counselor. Then that transitioned into wanting to work in the community rather than a school." 
Laura said she has dabbled in social work of many different kinds, most recently finding her niche working in the justice system in Philadelphia. In the fall, Laura will be a part of the Advanced Standing Masters of Social Work Program at LaSalle University 
Work Experience: 
Leah's showcase of talent in the arts goes back to some of her earliest years.  Singing at community events such as the Maple Festival, sporting events and impromptu performances at Chester's Bakery made her a prominent face in the community. Because of this, Leah quickly grew to be a mentor for youth. 
Leah said she was a former employee at Black Creek Adventure Camp during her high school summers. Here, she served as a mentor to the children and even was in charge of helping organize the camp events. Leah's personal favorite week of camp was Talent Week. 
She added that she also spent a summer working at summer school within the Maple Run Unified School District. Currently, Leah works at Morning Light Bakery in Winooski, VT and volunteers at Very Merry Theater in Burlington, VT helping prepare the show set and rehearsing musical selections. Through these experiences, "[she is] hoping opportunity arises after college." 
At UVM, third-year social work students are assigned an internship. Leah said that her internship will be through the Howard Center. She will be working on a team to "help students with developmental and intellectual disabilities join the college community." 
Leah added, "[I am most excited] to create trust and relationships with people." 
While at UVM, Laura Branon's internship was at Essex Community Justice Center, where she mentioned, "celebrating big or small achievements with other people," was her favorite part of the internship.
Throughout Laura's high school years, she worked in customer service. It was during this time Laura described, "f[inding an] interest in mental health." 
During college, Laura also worked at Northwestern Counseling & Support Services in their crisis unit and group homes while dabbling in behavior intervention and ABA (applied behavior analysis) work. 
Most recently, Laura accepted a job in Center City, Philadelphia where she will be working out of the Philadelphia Adult Probation Office in treatment court. Laura described her work detail as, "Whatever treatment entails, I will be going with my clients and then presenting that treatment in court." She mentioned this treatment could be, "psychiatry appointments, understanding [their] medications and other treatment sessions." 
Prior to working in re-entry social work within the justice system in Philadelphia, her work was primarily focused on social work within schools. Laura said that she was a member of City Year, a non-profit organization that focuses work on inner cities to help establish a foundation of success in academic and life skills. 
Laura's year in Jacksonville revolved around supporting students involved in violence. Some of her focus here was, "looking at [students'] test grades and targeting where they [were] not going to pass [and getting] them to a passing grade." 
Laura described her favorite part of this opportunity as, "supporting students in achieving their goals." 
Rewards and Challenges
Through Leah's and Laura's work comes many rewards but also several challenges. Leah says her favorite part of social work is the "connections," whereas Laura said her favorite part is "celebrating wins, big or small." 
"A client three weeks sober or a client finding housing- that's [a] big deal," Laura said with a smile.
"Watching people feel empowered to be themselves and share their talents is very rewarding," Leah said joyfully. 
Although the field of social work is rewarding, and now more than ever in high demand, there are still several challenges within the field. 
One of the greatest challenges in the field is understaffing, which was especially noted to have surged after the pandemic. The US Bureau of Labor Statistics stated that "Overall employment of social workers is projected to grow 9 percent from 2021 to 2031, faster than the average for all occupations."
The greatest challenge Leah  has faced in the field is, "helping others heal, [while] also bettering yourself." 
Laura explained that her greatest challenge is, "barriers."  Laura added, "[The] housing waitlist is eight years long. So facing that, I don't have any control over it." 
However, Leah closed her remarks by saying that social work encourages her because "You can help [people] heal."