A Chat with Jack Sparr and Quinnlan Steele: BFA '23's Top Two Students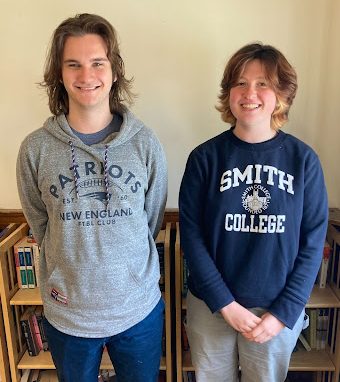 Bellows Free Academy values tradition, and there's nothing like the school tradition of honoring the top student or students in the graduating class. In this tradition, the honor of valedictorian is given to the top-ranked senior in the graduating class, and the honor of salutatorian is given to the second-ranked senior.
 BFA's The Mercury spoke with Jack Sparr, this year's valedictorian, and Quinnlan Steele, this year's salutatorian, about their recent honors.
When asked about their feelings toward their academic success, both students said they were happy with their accomplishments. 
"It's a[n]… honor," Sparr said. "It's humbling to be recognized, walking through the halls and being thanked and everything… it's nice to be recognized for the work I put in." 
Steele had a similar response. "I'm… proud of myself," they said. "…I'm really glad to see that I've been doing very well in all these classes… and having a good time."
Sparr and Steele say that they both plan on attending college after graduation. When asked how he feels about his future at the University of Vermont, Sparr said he is "feeling very good."
"From what I know, college life is much better than high school [in] how it's structured," Sparr said. "Having much more time for yourself to… get in-depth in your studies rather than high school where it's more surface level… it's [also] going to give a lot more time for extracurriculars and whatnot."
Steele said they were also looking forward to higher education. "I'm really nervous, but the normal healthy amount," Steele said. "I'm excited to really focus … on the subjects that I want to study, which as of right now is looking like Biology and Spanish. I'm feeling very hopeful and very enthusiastic about my future in college." Steele will be attending Smith College in the fall.
The Mercury also asked Sparr and Steele for advice they would give to students looking to excel in high school. 
"I think what excelling means is very often misunderstood…It sounds ironic, but having a really good GPA, at the end of the day, is not everything," Sparr said. "Work hard…and everything but don't sacrifice your social life. … In our culture, we very often fortify overworking [ourselves] and giving [ourselves] too much to do… So definitely try to find a balance in your work, your academics and your life."
Steele agreed with Sparr. "Don't just do school. Give yourself a lot of downtime… Take care of yourself before you do school so that you don't burn yourself out."