Deux écoles, un prof; two schools, one teacher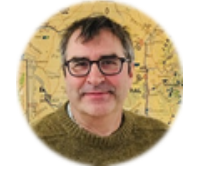 How many teachers do you know who teach at two schools on the same day, five days a week?
You may or may not know that BFA's new French teacher Bruce Pollard isn't limited to teaching at BFA, but he also teaches at Fairfield Center School.
This teaching at two schools like Pollard does may become a new trend in the coming years, where a teacher from one school in the Maple Run Unified School District (MRUSD) might even replace another teacher at a different school.
For those who don't take a world language or know Mr. Pollard, he had to fill some pretty big shoes when he replaced Madame Johnson, who retired last year from BFA.
He teaches at BFA during the mornings, and drives to Fairfield Center School in the afternoons to teach grades 6-8 French.
One of Mr. Pollard's colleagues at Fairfield is Shawn Stebbins, who teaches grades 6 to 8 social studies.
"I think Mr. Pollard is a nice man, who has good knowledge of not only the French language, but also French culture and history.  He has a passion to share his knowledge with others," Stebbins said via email.
Mr. Pollard seems to have the same impact on students from BFA.  Michael White ('19) is a student of Mr. Pollard at BFA.
"I would say he's a pretty good guy," White said.
His teaching has already started to have a major impact on some of the Fairfield students, according to Mr. Stebbins.
"I have seen the 6th and 7th graders, and I have noticed that kids in each class have shown some growth in French vocabulary.  The 7th graders see him more often, and they seem to know more words.  Some kids even greet him with French phrases, at the start of class," Stebbins said.
Pollard himself commented on his work at Fairfield.
"Younger kids have a much shorter attention span and in terms of classroom management it takes a lot more energy. Plus I have them in the afternoon so a lot of them have energy from after lunch and recess. The last period of the day they come in after recess and they're all wound up tight," Pollard said.
According to Pollard, BFA only needs a French teacher for three periods per day, which allows for Pollard to go teach at Fairfield in the afternoons. He leaves around 12:45 PM and arrives at Fairfield at around 1:00 PM and starts teaching his first class at 1:15 PM.
Pollard is a busy man teaching at two schools five days a week, while having to prepare for and grade work for all of his classes.
For additional information on Mr. Pollard, see Taylor Lavigne's October profile of him.  https://bfamercury.org/2146/features/a-whole-new-world-language-teacher/
"He has a passion to share his knowledge with others," Stebbins said. This means a lot when you can find a teacher who can not only teach you, but can teach you with passion, because that teacher will get you a lot more interested in the subject matter.
The Professional Staff Agreement between the MRUSD Board of Directors and the Maple Run Educational Association is a long document that spells out many policies and details regarding how the management of the schools will work with the teachers.  In the most recent agreement dated July 1, 2017 to June 30, 2020, there's a new policy regarding how one teacher can take another's position.  This policy was needed to take into account the change from four separate school seniority lists, to one Supervisory Union-wide list for all teachers.
"They only needed a French teacher here for two periods and in Fairfield it's the first year for a foreign language, so they were able to create a full time position [by combining the BFA classes with Fairfield classes]," Pollard said. Pollard, working at two schools, is benefitting from the following "Displacements Rights" because if the needs for French teaching at one school change, he will have the other. But he could also take a different job at a different school, if his experience, seniority, and certification earn him that right according to the Master Agreement.
In section 13.7: Displacements Rights, "A teacher who is notified that he/she is to be laid off will have the right to displace the least senior teacher whose work he/she is certified to perform within the MRUSD provided, however, that he/she has evidence of this certification on file with the Central Office or presents such evidence to the Superintendent within ten (10) school days of receipt of notice of layoff." This means that if someone has been working at one school (within the now consolidated MRUSD) for longer than someone else at a different MRUSD school, they have the right to take that person's job, within subject areas.
For example, if a teacher at BFA had been teaching math for ten years and they were let go in a reduction in force, they could take a math teacher's job at Fairfield if that teacher had been teaching that subject for five years. Seniority takes priority in this new District-wide policy.
"I think that it helps the more experienced for sure. It doesn't really help the people who have been teaching for one or two years," White said.
But what happens to those teachers who have their position taken from them? They could perhaps take another teacher's job at a different school, like the teacher who replaced them. This makes it a cycle until eventually someone can't get a job teaching.
Mr. Pollard decided to take a job within the MRUSD that called on him to make a full-time position out of work at two schools.  His example may be duplicated in the years to come.
His experience directly ties into the "Displacement Rights," because he could potentially leave one position and he might still be able to get a job at the other school, or at another MRUSD school.
Time will tell how teachers take advantage of this system. A big question is whether or not a teacher would be willing to take a job from someone else, even if it is at another school, or have a job split between schools, so he or she could be employed.
This will be found out in time, as BFA and statewide enrollment in high schools is declining.