BFA safety committee upgrades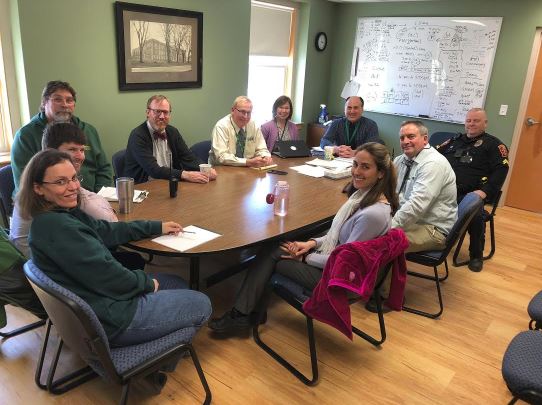 Everyday in school, students and staff are carrying on a normal day learning and teaching. One would think that a public place, such as a school, is a safe environment. However, this isn't the case in recent years.
For the past few years, news reports about school shootings have been headlining papers, websites, and telecasts.
In March, a threat was found at BFA. Police and administration were notified right away and BFA was sent into a secure the school. During the secure the school, Paul Morits, the new school Resource Officer (SRO), notified the other officers from the St. Albans Police department and an immediate evacuation was called.
"We have a video camera in the hallway right outside the room that the threat was found in. We went through the video of that day and we took down the names of everybody that went in and out and how long they were in there. Then we narrowed it down to a group of people that were in there long enough to put the note there,"  Morits said.
A few days later, class meetings were held for students and teachers to talk about the situation so that students could feel more safe at BFA.
"BFA had a safety committee for a while and they had stopped meeting on a regular basis. When I came on board as the SRO and with all the shootings that were going on, we decided that we should get this committee up and running again," Morits said.
Chris Mosca, the BFA Principal, sent a staff wide email to get volunteers on the committee. There is a total of 16 staff members that is currently a part of the committee. The names are as follows:
Chris Mosca, Shannon Warden (Assistant Principal of Curriculum and Staff Development), Heather Fitzgibbons (Assistant Principal), Geoff Lyons (Assistant Principal for Facilities), Joanne Wells (Assistant Special Education Director), Mike Antoniak (Public Safety and Fire Services teacher), Julie Faas (Medical Professions teacher), Armand Messier (Chorus Director), Preston Randall (Guidance Director), Officer Morits (SRO), Devin Quinlan (Dean of Students), David Kimel (Manager of Collins Perley Complex), Leeann Wright (Director of NWTC), Alan Steel (Head of Tech Department), Kasia Bilodeau (Special Educator), and Sage Bernardini (Learning Center Educator).
Some of these current members were also members of the original safety committee.
"We first had the safety team because Mr. Mosca was new. I was new and we started to identify needs around emergency procedures at the school. So we brought a group of people together to start to discuss emergency procedures at BFA and come up with commands as to what our plans are going to be. It wasn't just threats that we talked about though, we talked about fire drills and what if there was a chemical spill," Warden said.
The committee had their first meeting on Monday, March 25 to go over safety procedures and policies. During that meeting, Warden worked with Steel to come up with a better communication systems for students, teachers, and parents.
"The communication plan before was pretty simple, we would use the intercom and the black board alerts that people get on their phones. One of the events that we learned from this event that we had a few weeks ago was how can we more easily and more frequently provide updates to teachers, what do they need to know? What do students and families need to know? And what are the best ways for them to get those updates?" Warden said.
The committee meets monthly to go over safety procedures and practices such as lockdown drills, fire drills, and the new evacuation drill. These drills occur every other month during the school year. If there needs to be upgrades, the committee is in charge of making those upgrades to keep BFA as safe as possible.
"My opinion is that the level of danger and the frequency of these incidences happening has become much more prominent and it makes it much more of a urgent need to pay attention and to start making changes," Bernardini said.
One of the safety features of the safety committee is the "Run, Hide, Fight," rule.
"[It's based] on whatever situation you are in. You decide out of those three things, what is your best course of action [in any form of situation regarding threats and other similar situations]," Morits said.
After the first meeting, the safety committee left with a clear goal in mind: thinking about what actions need to happen to ensure safety at BFA. Their next meeting was scheduled Monday, April 9.
"We will go over the suggestions that everybody has for safety procedures, see from [what] we need [for] resources from the outside, then we will go forward on figuring out what we need and implement whatever safe practices we think we need," Morits said.
There are some new changes that have been made to the evacuation process for the future. Buses for sending schools will be sent to pick up. Students that drive must carry keys at all times. If any students require a ride, they will be taken to the Complex by bus. Staff members were asked to put the updated emergency plan by every classroom phone.
"My hope is that there is a better sense of security of safety knowing that we are looking at all angles and aspects and really trying to have a clear plan that everyone is aware of. I'm also hoping for more communication between administration and staff and the community and our students," Bernardini said.
BFA's safety committee hopes to ensure more safety features and keep upgrading security for a public school's peace of mind.