The Tradition of the Holiday Assembly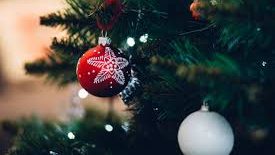 It's finally that time of year again.
 The time to watch Hallmark movies, Holiday throw up all over the house, and blankets upon blankets of fresh snow on the ground. 
It is also time for the traditional holiday assembly at BFA, which takes place on Monday, December 15th. 
Each year, students at BFA go to the gym and observe what the performings arts have been working on throughout the semester. 
Dance teacher Alexis Kamitses describes what she thinks the holiday assembly is all about. 
"It is an assembly in which we get to celebrate the arts. So band, chorus, dance and this year there will be a number from the musical," Kamitses said. "It's holiday themed, although it is more based on sharing the arts, and family and sort of [what] all the holidays represent."
Kamitses usually does a holiday themed mash-up with her hip-hop class, while her intro to dance class does a piece based on a certain theme or event. 
"We've been talking about how girls are often pulled out of school, even at a young age as elementary school, to help out at home and do work at home. So they don't always have access to education," Kamitses said. "So we're building a piece around that, and I thought I wanted to share that one in the holiday assembly just because it brings awareness to certain privileges that we have, and brings awareness to girls' rights to education."
In addition to the dance performance, there will of course be pieces from the chorus, band, and the drama program.  
Originally, Theatre director Susan Palmer wanted to do a number called Revolting Children from the hit fall musical Matilda, but the drama council wanted to do a number called Bows to be more inclusive of the cast, and to give a better feeling of the show. 
"The feeling was that, [Bows], represents the show and the general spirit of the show. It also includes everybody pretty equally, and it is a little easier, because it doesn't have as hard choreography," Palmer said. 
Hope you enjoyed the assembly on Monday!