Honolulu to Winooski, What Brought Nicole Schubert Up North?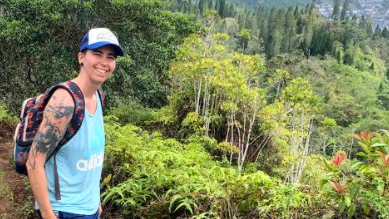 Nicole Schubert, a new teacher in Bellows Free Academy's math department, brings great enthusiasm. After talking to Schubert about her transition to BFA, she commented on how she "really enjoyed just chatting with the math people, they're a really funny group…" Teaching at BFA feels more exciting to Schubert than any of the surrounding high schools. With her small class of less than 20 students, Schubert encourages fun in the classroom. 
Virtual teaching can be challenging; however, the math department as a whole teaches virtual and in person students at the same pace. "That seems like the biggest challenge at this point, can the kids at home learn while I'm teaching from online?" Schubert wants connections and success with her class, even though online learning can cause more struggle for students. She believes in the importance of having confidence in math because it will encourage success and participation. 
Before BFA, Schubert grew up on the west coast in Seattle and went off to college at Western Washington University where she studied business and participated in an International Business program. During college, Schubert got into hotel management and restaurant work, and continued after college for a total of 12 years. "After all that time working at restaurants I went back to graduate school, and that's when I decided to do a teaching program." Teaching led Schubert to have a career that's more challenging and rewarding than restaurants. 
"It was a big jump for me professionally and personally moving all the way over here," Schubert said.
By jump-starting her new career in teaching, Schubert went to Hawaii to teach. Schubert taught in the rural area of Waianae, Oahu before moving to Honolulu, Hawaii. Dole Middle School is in the inner city of Honolulu, where she taught mainly eighth grade math for six years. Schubert is passionate about creating a safe environment within her classroom, so her students feel open to learn. "I'm really focused on getting them all to be as successful as possible…" After the school year ended, Schubert moved from Hawaii to Winooski, Vt. in July.
"The main reason why I wanted to come up to high school was to have more fun at work and have assemblies, sports, and clubs that you don't really have in middle school," she said.
Outside of teaching, Schubert enjoys outdoor activities such as snowboarding, traveling, and hiking. She's enthusiastic about new hiking trails in Vermont, and snowboarding this coming winter. Schubert is considering being a part of the Ski and Snowboard Club with Mr. Caforia this season. "That'll be fun, get to know some more kids that way too." Don't be shy to welcome and greet Schubert in the math department. She'd love to meet other students here at BFA.