The Man, The Myth, The Musician: Verne Colburn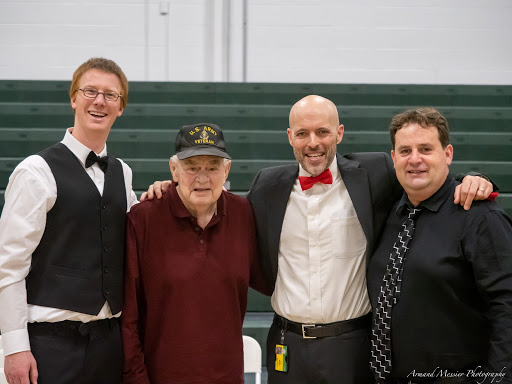 Verne A. Colburn, born in Keene, New Hampshire on April 25, 1937 would grow to become a staple in Bellows Free Academy, Saint Albans' history.
Colburn went to the New England Conservatory, where he studied piano and music education before coming to St. Albans to be the Director of the BFA Band from 1963 to 1996. Colburn, although holding high standards for his students, was never known to be unkind.
"This program was his life you know, a big part of his life," said Eric Bushey, the current Band Director at BFA.  "Even…times when I didn't feel I was doing a great job, he was always there with the praise, came to all the concerts, and I just heard from so many people like, 'God, Verne Colburn, he just goes on and on about how proud he is of you in the BFA band!' and like, for the last 25 years, you know, he's [been] my biggest cheerleader. We just became very, very close right away. But, over the years, that bond got tighter and tighter and tighter."
Colburn married Elizabeth (Betty) Salisbury the same year he got hired at BFA, and they had seven children: Diane (who passed away at 16), Cindy, Carey, Terry, Karen, Michael and Amy. Colburn is survived by seven grandchildren: Jeremie, John, Sam, Jack, Claire, Deanna and Matthew. 
Colburn joined the 40th Army National Guard Band as an instrumentalist and was able to perform hundreds of concerts and parades around Vermont, with a few special performances in Italy and Panama. He was appointed the unit's Commander in 1977. 
For over 40 years, Colburn served as the pianist for Cardiac Capers, a variety show that Franklin County people volunteer their time and their talents to as a fundraiser for Northwestern Medical Center.
After being moved into assisted living, Colburn continued to play the piano for his neighbors and friends. Mary McCreery, a close friend of Colburn's at Homestead Senior Living, shared her favorite memory of Verne, "My family had a friend named Frank, who used to come quite often, and he wanted to come here [Homestead] and see me with his wife and had heard about Verne and wanted to meet him, and Frank had studied opera… But anyway, he met Verne, we had a lunch out, came back here, and Verne sat down at the piano, and Frank started to sing, 'Danny Boy'…with that tremendous voice and Verne's wonderful music. I think that was my finest memory because they just had the walls shaking."
McCreery, when reminiscing about her time with Colburn, said, "Oh my gosh. Gosh. He was wonderful to me, wonderful, smiling…If the Army Band came in, or anybody like that, I could see glimpses of what he used to be like because they so inspired him."
When Bushey reflected on Colburn, he said,  "Well, first and foremost, talented, I think, begins to scratch the surface. I mean, he was one of the best musicians I've ever met. He was patient with the students he worked with, and he was a loyal friend. So, those are probably the first three things that come to mind."  
In light of the current COVID-19 restrictions, there will be no immediate visitation, funeral or interment service. However, a memorial service will be held on July 29, 2021, with a location to be determined.
If one would like to send messages of condolence, please direct them to the Heald Funeral Home at: www.healdfuneralhome.com.
In lieu of flowers, memorial contributions can be made to "BFA Parents for Music," ℅ Eric Bushey, Bellows Free Academy, 71 So. Main St., Saint Albans, Vt. 05478.  
Verne will survive in the memories of all those he met and in everyone who his music reached.
Our Condolences, 
The BFA Mercury.