Into the Woods Fall Production Preview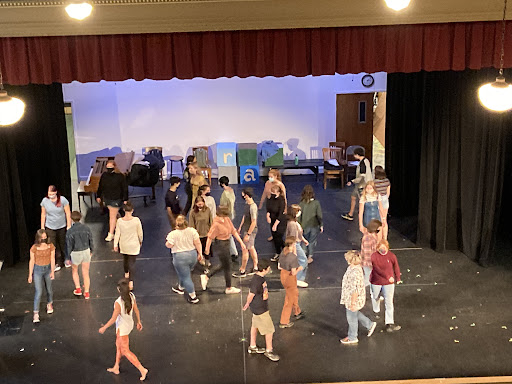 This school year Bellows Free Academy's Theater program is putting on a production called Into The Woods, directed by Susan Palmer, BFA's drama teacher.
According to Palmer, students are getting involved in the play, not only by acting, but in a variety of other ways as well. They are helping with components of the production like lighting, costumes, set design and so much more.
Palmer said that Into the Woods is a musical by Stephen Sondheim. Palmer also explained that Into The Woods is a mashup of different fairy tales. The fairy tale characters all head out into the woods trying to find different things. They have their own wants and wishes and ways to change or better their lives. Act one ends with the typical happily-ever-after type of feeling, and act two is more of what happens after that happily-ever-after.
Some of the lead roles of Into The Woods include the baker, played by Pilot DesLauriers ('22), the baker's wife, played by Emily Parent ('22), the witch, played by Bug Galuszka ('23), Little Red Riding Hood, played by Madison Gagner ('23), Cinderella, played by Lindsay Bernard ('22), Jack, played by Elio Haag ('23) and Jack's mom, played by Emily Farrell ('23). 
Palmer has cast students as the woods.  "One thing that I decided to do this year was cast some students as the woods. They're going to have costumes that just meld in with the set…They'll become part of scenes and then go back to the set and come out and do stuff and move things," Palmer explained.
When choosing who to cast for different roles, for musicals in particular, Palmer said one of the most important factors is whether or not the actors can hit the notes for their part. Another important factor she mentioned was responsibility and reliability and said for parts that require a lot of responsibility, she is more likely to cast someone she knows she can trust.
Into the Woods was chosen because Palmer felt that it shows that even though there is darkness, there is hope as well. "It ultimately shows people coming together, and being resilient and finding a way through the woods." 
Palmer also has some history with directing and acting in this play. She said she played the witch and enjoyed her experience.
When asked how the play will be put on this year with COVID-19, Palmer said, "I actually just met with Mr. Blanchard yesterday and, as of now, the plan is we're going forward with everything as normal, except we're wearing masks." 
She added, "There's some talk that maybe we can remove the masks in October, but… I'm not holding my breath…" She also said that the play participants will be wearing masks.
Being the director of such a challenging musical during a pandemic comes with its own set of challenges. A big challenge Palmer faces is the many absences and having to change her rule of a limited amount of absences [for the participants] to the unexpected obstacles the pandemic throws at you. Another big challenge is coming up with the right effects to portray the more difficult parts of the show. 
Gagner ('23), who will play Little Red Riding Hood, originally tried out for the prince. This is the first female role that Gagner has been cast as and the first big role in a high school play. She said she feels good about the play right now, and she's very excited. She noted there is less time than usual, and the music is difficult, but she believes that they can pull it together. 
When talking about what she is looking forward to, Gagner said, "Other than the actual feeling of performing for an audience, just making friends, getting to know some under-classmen, and the kind of family dynamic you build with a lot of the people there, it's a really really welcoming environment, and it's so fun."
She also acted in Matilda, and when comparing the two musicals she said, "Into the Woods is a little different from Matilda because it is less choreography heavy and more music heavy. There [are] a lot of embedded songs, like half dialogue, half music. There's some not rap, but rhythmic speaking, so it's very music heavy."
Haag ('23), who is playing Jack (from Jack and The Beanstalk), said it's a larger role than previous roles they have played. Haag also said that Jack is more adventurous, which they didn't get a chance to play as much when they acted in Matilda, so they are excited about this role.
They are very excited, and they think the cast is great and has a good work ethic, so it will be an exciting production. They look forward to opening night and getting to interact with the audience for the first time.
Haag said, "The first time the audience laughs is the most magical moment I've ever experienced. When you hear the audience laugh, it's like I did that, I invoked an emotion, I made them feel that way." According to Haag, the music in Into the Woods is more complicated than the previous plays, with a lot more main roles and a lot more characters that have their own highlighted pieces and solos. They added that ensembles are very important and add magic to the show.
They are very happy with the role they got. When Haag auditioned, they were very nervous because there were a lot of people auditioning for the role of Jack, and they were worried they wouldn't be good enough, but they feel honored to have this role and excited to bring this character to life. They claimed their role is "quite challenging" and said there are a lot of difficult pieces and fast pieces. The range is also a challenge because Jack has a lower voice than Haag, so they have to overcome that challenge.
If you are interested in theater, other activities that will happen after this production are the One Act plays, with the auditions in January and the show in March. In December, the improv team will start meeting once a week.
The other opportunity Palmer mentioned is Junior Jam in which the class-chosen director selects a play, and the classes compete to see who has the best play. Last year, the freshmen won against the sophomores, and the juniors won against the seniors.  Overall, there are many opportunities at BFA for students interested in drama.