Remembering Maisie Emma Talbot ('19)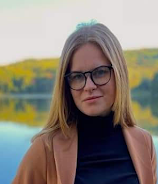 Maisie Emma Talbot ('19) unexpectedly passed away on Jan. 20, 2022. According to Maisie's mother, Amy Anderson, Talbot had a great experience in St. Albans and all of the schools she attended, which included Barlow Street Preschool, St. Albans City School and Bellows Free Academy.
In an interview with The Mercury, Anderson described how, while at St. Albans City School, Maisie told her that she had been hanging out with some band kids and had an interest in playing the flute. Anderson bought her a flute, and all of a sudden she was a flute player, always surprising everyone with her talents. Anderson added that, as a child, Maisie was never into sports, but she loved music, dance and art. Because she loved painting so much, she had a place in the basement where she could go to decompress and paint, where she showed her determination and persistence once again.
Anderson had another story to share:  When Maisie was 11, she went on a ski trip to Squaw Valley with her aunts from her dad's side She ended up coming back to St. Albans with an unset leg, which was then put in a cast all the way to her hip when she got back.  Three months later she was diagnosed with Atrial fibrillation.  During this time, Maisie was out of school for so many days they could have held her back, but they made an exception for her because of how determined she was to finish all the work she was given. Maisie never used her struggles as an excuse. "Everyone rallied around her and made the effort, and she did the same," Anderson said.
Talbot met Maddy Coon ('19) in her freshman year of high school. "I saw Maisie as a focused, studious and serious person," Coon said. As she began to become good friends with Talbot, Coon said she learned that she "was so much more than a studious girl who could play the flute. She was a diligent, thoughtful, deliberate, cautious, determined, adventurous and, most of all, an amazing friend, who brought so much light and character into [everyone's] lives."
Entering high school at Bellows Free Academy, Anderson said that Maisie decided that she wanted to try sports. Anderson explained how Maisie started with cross country her freshman year, but unfortunately had shin splints that forced her to sit out and become manager of the team. Even though "she got mad and frustrated, she [never] let it define her," Anderson said.
During this time, Talbot met Shannon Macdonald ('19) who described her as "everything that a friend should be…her motivation to be her best self was absolutely contagious." 
Anderson said that Maisie also decided to try tennis and track in high school. "[It was] super frustrating when sometimes she couldn't make it through a season without getting sidelined [because] at times she would have to have her heart converted back in to rhythm and then take blood thinners for a month or two…She always just kept going, and I [was] impressed [how]…even if [she had] to sit on the bench and cheer [her] team on, [she] show[ed] up. She was determined," Anderson said
In her junior year of high school, Talbot met her partner, Danny Bouwens ('18). He described her as "that friend you would want."
In her senior year at BFA, Talbot made sure to participate in all activities available including Powderpuff, which Anderson reflected on as "an event [with a] great group of kids, teachers and staff [where the] community really rallies around its students for a greater cause."
According to Anderson, Maisie had a great life in St. Albans and was never afraid to get involved with her community. For years, she babysat for Mayor Tim Smith and his wife Denise Smith. She worked at Olympia Sports in St. Albans and at Northwestern Medical Center during the peak of Covid.
Although Talbot was a junior at the University of Vermont, she was only a few classes away from reaching her bachelor's degree. "She always gave it everything. She saw things through even if it didn't work out and it didn't end up being where she wanted to head," Anderson said.
Anderson explained that Maisie was also a teacher's assistant at UVM and even led some classes when the professor was absent.
According to Anderson, her senior year plan was to either go on to get her master's or to do an accreditation program at UVM. Next year, Talbot's family will be attending graduation because they are awarding Maisie her bachelor's degree posthumously.
"None of us are perfect, but I think [Maisie] was comfortable with herself enough to just do her thing in this world, and that's what a lot of us are always go[ing to] remember, not just what she accomplished," Anderson said.