VSARN's Day of Racial Equity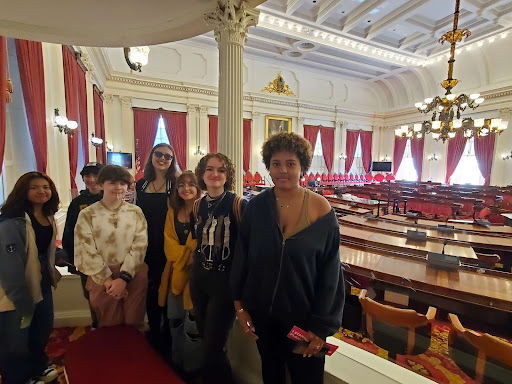 On Sept. 30, dozens of socially-active students and staff from schools across Vermont gathered at the Vermont Statehouse for the Vermont Student Anti-Racist Network's (VSARN) Day of Racial Equity. Among them were several members of the Bellows Free Academy Social Justice Club.
According to Nicole Schubert, adviser to the Social Justice Club, "VSARN was formed by a group of student social justice activists from Essex High School, and now includes student members from all over the state." 
Schubert said that the Social Justice Club has been able to collaborate with VSARN for digital conferences and opportunities in the past, and even share a couple of members, but this was the first time the club was able to attend an in-person gathering.  The Social Justice Club, alongside 8th graders from Fairfield Center School and St. Albans Town Educational Center, was bussed to Montpelier. There, they met up with students from various other schools across the state. 
According to Schubert, the event began with time for registration and greetings among the attendees. Several social justice organizations had tables at the event that students could look at, and there were small activities to participate in. 
As the day progressed, students were able to take self-guided tours of the Statehouse and attend interest group workshops addressing topics like school district equity policies and social justice poetry. According to Leeza Kusmit ('24), this educational portion was particularly enjoyable.
"VSARN was a fascinating experience that really got me in the groove," Kusmit said. "It was super educational."
After that, the event split for a brief lunch break, where students could enjoy nachos and tater tots and were treated to free Ben & Jerry's ice cream. 
"I enjoyed the Ben & Jerry's immensely," Patricia Noza ('26) said.
The group then came back together for a series of speeches; some from socially active students, and others from Vermont leaders like Becca Balint, David Zuckerman, Saudia LaMont and representatives from Senator Bernie Sanders's and Representative Peter Welch's offices.
"[People] from around the state spoke about current social justice issues including reproductive rights and racial equity issues," Schubert said.
According to Schubert, the trip was a fulfilling experience.
"The VSARN group did a pretty good job putting together their first Day of Equity," Schubert said. She added, "I loved that the students got to meet other student activists, hear student speakers from around the state and had a chance to speak directly with local candidates for office." 
She did note, however, some changes she would like to see for future days.
"Too much time was spent listening to music, hanging around, and visiting information tables.  The students should have attended an additional workshop during that time," Schubert said. "Hopefully, VSARN tightens up their schedule to allow for additional participation [if they put on this event again]."
A student shared her opinion.
"I didn't really understand what we were supposed to be doing at times," Kusmit said. "Some structure might have helped."
Others, however, found the event informative in spite of the lulls.
"[It] made me consider ways to shift the culture here at BFA," Reilly Babinski ('23) said. "They even gave me a lot of questions for our school staff, like if we have an equity policy."
Some students also expressed an appreciation for the educational opportunities the trip provided, while others noted that it was nice to meet with other students across the state.
"I met and became friends with a lot of people and made a lot of great connections." Noza said.
Paxton Getty ('24) added, "It was a great learning experience.  I would love to do it again."